Comfortable, Soft Outdoor Socks – Moisture Wicking – Made with Coffee Bean Infused Yarn
Ever hear of Zensah? Back when I didn't leave the home without wearing compression socks or sleeves, Zensah was one of my "go to" brands. They are very popular in the running community and I see them all over! When I saw these "comfort socks" available, I definitely wanted to give them a try!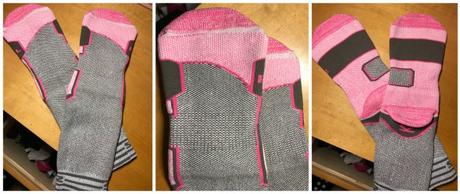 These socks are going to be fantastic for the fall if you live up north.  For me, I'll put them up for my next trip to Ohio, because I'm sure no matter which month it is, these socks will be appropriate. The fit nice and they really ARE comfortable.  They are tall enough up the leg so I can wear them under my boots too, so that's a plus for me!
The Fresh Legs Coffee Hiking Socks provide superior comfort and performance and are extremely durable and tough. I could definitely see them as hiking socks as they feature heat yarn infused with coffee bean shell residue so that they keep your feet warm and comfortable during cold weather. These socks also utilize Innergy yarn which harnesses the body's naturally occurring far infrared rays (FIR) to help circulation and heat generation. These socks can be used for travel socks, hiking socks, walking socks, and so much more.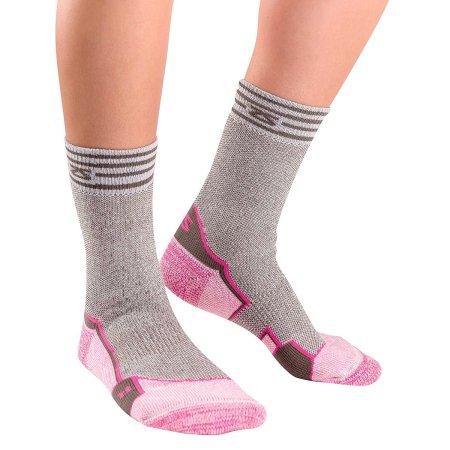 92% Nylon/8% Spandex

Imported

Keep Feet Warm: Special heat yarn infused with coffee bean shell residue keeps you warm and comfortable while hiking, traveling, camping, hunting, outdoors, or just during everyday wear.

Anti-Odor: The Hiking Socks are antimicrobial, preventing the buildup of stink and orders. Ensure your socks feel and smell great all day.

Moisture Wicking: Perspiration build up is prevented thanks to the special moisture wicking properties of the outdoor socks, which wicks away moisture from the skin through the sock to air the where it can evaporate.

Perfect Fit: A no-slip cuff prevents the socks from slipping or sliding into hiking boots. They offer a perfect blend between thick and thin hiking socks.
These are very comfortable socks thanks to the extra-soft looped knitting on the inside that feels exceptional on skin. They are moisture wicking socks that help to prevent the buildup of perspiration. The hiking socks offer an ergonomic L and R foot for a perfect fit.
If you're interested in picking up a pair of these awesome socks, you can head over to their Official Webpage HERE!
I received a pair of these comfort socks from Zensah without cost in exchange for my honest review and opinion! Thanks Zensah!
~ ~ ~ ~ ~ ~ ~ ~ ~ ~ ~ ~ ~ ~ ~ ~ ~ ~

It would be great if you would stay connected with me!! You can follow me on Twitter @DebiL1611, like me on Facebook at 2014 and Beyond, circle me on Google+, follow me on Tumblr, Instagram and Bloglovin', subscribe on YouTube, or connect with me on LinkedIn and Pinterest.

Please make sure to visit my homepage and subscribe to my blog for more great posts on running, fitness and lifestyle topics as well as food, product, music and book reviews, and more!