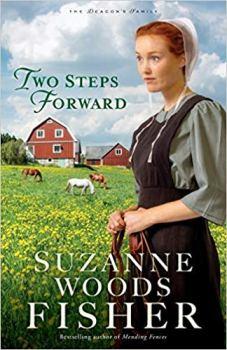 Two Steps Forward by Suzanne Woods Fisher
Series: ,
Published by Fleming H. Revell Company on February 4, 2020
Genres: Amish & Mennonite, Fiction
Pages: 320
Goodreads
Buy on Amazon
Back and broke in Stoney Ridge, Jimmy Fisher has coasted as long as he could through life on charm, good looks, and deep-set dimples. They always worked just fine for him–until they didn't. His smile has no effect on the violet-eyed beauty he met at the Bent N' Dent, the one with that stunning horse. She's offered him a job, but nothing else.
The last thing Sylvie Schrock King needs around Rising Star Farm is a grown boy working for her, especially her neighbor Edith's son. The woman holds a serious grudge against Sylvie and her son, and hiring Jimmy Fisher will only fan the flames of Edith's rancor. But Sylvie is desperate for help on the farm, and Jimmy understands horses like no one else.
While Jimmy's lazy smile and teasing ways steal Sylvie's heart, Edith is working on a way to claim her land. Has Sylvie made another terrible mistake? Or is it too late to outfox the fox? More importantly . . . just who is the fox?
Writing with both wit and warmth, Fisher delivers a supremely satisfying conclusion to the popular Deacon's Family series.

My mother and I have read a few other of Suzanne Woods Fisher's books and have always enjoyed them.  While this is the third book in a series, I didn't read the first two books and thankfully, Two Steps Forward serves as a standalone. Since it's the finale in the series, I think I'll probably be going back and reading books one and two just to fill in the gaps.
In Two Steps Forward, readers meet Sylvie Schrock King and Jimmy Fisher., neither of which are looking for love….. but as is usually the case, that's when it hits us hard, right? (Love, that is.) The story built rather slowly, but it was steady and allowed readers to come to learn more about the characters.
Sylvie is a widow raising Joey, her four and a half year old, on while also trying to run Rising Star Farm. Sylvie offers Jimmy a job which he accepts and he is looking forward to working with Prince, the Arabian horse Sylvie uses to pull her buggy.  Sylvie had a rough childhood in a conservative Amish group.  The growth of the characters throughout this story was very good to follow throughout this story.
The story provides readers with a great mix of romance, love, joy, humor and family drama, while at the same time giving us unexpected turns to keep us glued to the pages. While I honestly could never be Amish, I do love the way that they live their lives.  Two Steps Forward is filled with very thought-provoking dialogue, Amish values, and a gentle reminder for readers that everyone is capable of change.
---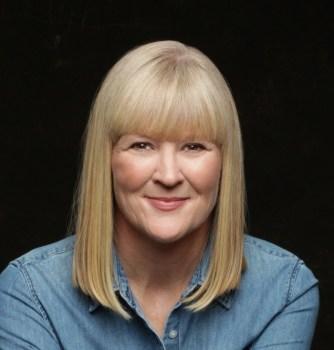 Suzanne Woods Fisher is the bestselling, award winning author of fiction and non-fiction books about the Old Order Amish for Revell Books, host of the radio-show-turned-blog Amish Wisdom, a columnist for Christian Post and Cooking & Such magazine.
Her interest in the Amish began with her grandfather, who was raised Plain. A theme in her books (her life!) is that you don't have to "go Amish" to incorporate the principles of simple living.
Suzanne lives in California with her family and raises puppies for Guide Dogs for the Blind. To her way of thinking, you just can't life too seriously when a puppy is tearing through your house with someone's underwear in its mouth .
---
I was provided with a complimentary copy of this book from Revell Books, a division of Baker Publishing Group in exchange for this, my honest review (or in this case, my mother's honest review). I was not required to post a positive review, but chose to.

~ ~ ~ ~ ~ ~ ~ ~ ~ ~ ~ ~ ~ ~ ~ ~ ~ ~

It would be great if you would stay connected with me!! You can follow me on Twitter @DebiL1611, like me on Facebook at 2014 and Beyond, circle me on Google+, follow me on Tumblr, Instagram and Bloglovin', subscribe on YouTube, or connect with me on LinkedIn and Pinterest.

Please make sure to visit my homepage and subscribe to my blog for more great posts on running, fitness and lifestyle topics as well as food, product, music and book reviews, and more!