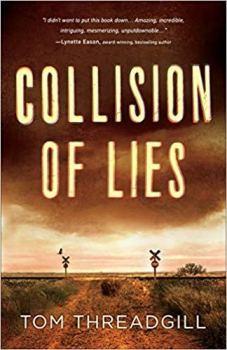 Collision of Lies by Tom Threadgill
Published by Fleming H. Revell Company on February 4, 2020
Pages: 400
Goodreads
Buy on Amazon
Three years ago, a collision between a fast-moving freight train and a school bus full of kids led to devastation and grief on an unimaginable scale. But a fresh clue leads San Antonio police detective Amara Alvarez to the unlikely conclusion that one of the children may still be alive. If she's correct, everything law enforcement believes about the accident is a lie.
With time running out, Amara must convince others–and herself–that despite all evidence to the contrary, the boy lives. And she will do everything in her power to bring him home.
A fresh voice in suspense, Tom Threadgill will have you questioning everything as you fly through the pages of this enthralling story.

Collision of Lies is a story that centers around the detectives of a big city police department.  Detective Amara Alvarez is the story's female protagonist.  She overhears a couple arguing and jumps to try and help out.  There's more to it though, three years earlier, the couple's son was on a bus that was hit by a train and they've been living through the loss.  They recently received a text from someone claiming to be their son.  The authorities try to open the case and time is running out as Detective Alvarez tries to save the lives of as many as she can to reunite families with the ones they lost.  
Collision of Lies started out big and just kept getting faster and bigger until the end.  The plot line was intricate and the small details really made the story work well.
The story compelled readers to keep flipping the pages – the pages filled with likable characters that we could relate with and a plot that was different and interesting.  If you are a reader of Christian fiction because you want to avoid secular fiction filled with bad language and other junk, then I'd definitely recommend this book for you.  I would have to say that this is one of those books that gets the "unputdownable" label.  Definitely an author I need to learn more about and check out his other books.
---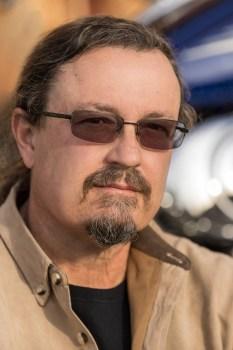 Tom Threadgill was born and raised in Memphis back when the muddy Mississippi was less riverish and more streamish. His childhood was unremarkable. (Unless you count the concussion. Oh, and the time he nearly got arrested. And the time his dad made him smoke a cigar so he wouldn't try cigarettes.)
After giving up on a calling as a professional Pong player, Tom married his high school sweetheart and moved off to Nashville. He attended Belmont University where he majored in English (because the sky's the limit for English majors, right?), learned to type on an IBM Selectric, and helped his wife study nursing terms with flashcards.
While there, Tom began an almost thirty-year career working for a package delivery company, spending most of the time working his way up the ranks and looking for his stapler. The job took him to Indiana, Missouri, Florida, and Texas, before he opted to retire early and move to rural west Tennessee. Think Green Acres minus the farm but with the helpful county agent.
These days Tom spends his time piddling in the yard and writing novels. His hobbies include working jigsaw puzzles, trying out Dad jokes on his grown kids, woodworking, and using leftover potted meat cans from Y2K for target practice.
Tom enjoys riding his Harley in the mountains with his wife, who shuts off the microphone after the third "I am a leaf on the wind. Watch how I soar." He's also a rabid hockey fan, following his beloved Predators as they chase their first Stanley Cup.
WEBSITE  //  FACEBOOK  //  TWITTER  //  GOODREADS
---
I was provided with a complimentary copy of this book from Revell Books, a division of Baker Publishing Group in exchange for this, my honest review. I was not required to post a positive review, but chose to.

~ ~ ~ ~ ~ ~ ~ ~ ~ ~ ~ ~ ~ ~ ~ ~ ~ ~

It would be great if you would stay connected with me!! You can follow me on Twitter @DebiL1611, like me on Facebook at 2014 and Beyond, circle me on Google+, follow me on Tumblr, Instagram and Bloglovin', subscribe on YouTube, or connect with me on LinkedIn and Pinterest.

Please make sure to visit my homepage and subscribe to my blog for more great posts on running, fitness and lifestyle topics as well as food, product, music and book reviews, and more!