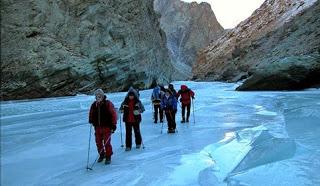 Great Himalayas of Northern flanks which is dominated by the reverie of brilliance
of Zanskar is amongst the most designated trekking trails around Leh, Ladakh where trekkers would have a maximum opportunity to understand the serenity of nature. Its remote location and snowy mountain passes makes it diligent for sightseeing and trekking. The vast stretch of Zanskar valley which is lived by the Tibetan people makes it ideal for trekking and tour.
Itinerary 
Days 01: Drive Leh – Alchi – Lamayuru - Mulbek - Kargil (225 Km)
Day 01 starts with your advent at Leh and from here you would drive down to kargil through Alchi Monastery, Lamayuru monastery and Mulbekchamba. The trekking trails that cover the beauty of imposing hill, Nimoo village and other charming villages of Ladakh would make your journey exceptional. 
While arriving at Alchi traveler can buy a time to stroll around the Gelugpa sect monastery which is located at a distance of around 68 km from Leh. After crossing the high passes of Leh trekkers would again drive down the trail of Lamayuru where you can stay for a while to view Digung sect monastery. After your visit the driving trails continues till you reach the site of Mulbek where you will call of your day. 
Day 02: Drive Kargil – Rangdum (140 Km / 7 Hrs) 
Day 02 starts with the pleasing sunshine and after grabbing a quick meal trekkers would follow their journey to reach Rangdum fro, Kargil which will take approximately 7 hours. 
While driving the road trekkers would have an occasion to view landscape of Suru valley and its surroundings which is sympathized by glory of pinnacles. After reaching Rangdum which is located at a distance of around 140km traveler can call of their day by setting up a camp.
Day 03: Drive Rangdum – Padum (105 Km / 6-7 Hrs) 
After grabbing quick meal day 03 starts with the ride towards Rangdum monastery where traveler can buy a time to revere the brilliance of Monastery and the picturesque dale that surrounds the site. The cultural potency of Rangdum defines the importance of religion sect and after setting down here for some couple minutes before traveling down to Padum which is located at a distance of around 105 km.
Day 04: Drive Padum – Karsha – Stongde – Zangla
Day 04 would cover the distance of Zangla which is located at a distance of around 7 km from Padum and after reaching here traveler can take an initiative of strolling around the monasteries of Zangla which are pristine and divine in nature. 
From here traveler can get a crystal clear view of the surroundings and those enchanting valleys that blooms with the spring of nature would make your journey irresistible. After reaching Zangla traveler can call of their day and during the time of evening they can walk around to interact with the local people of Zangla.
Day 05: Trek Starts: Zangla – Zangla Sumdo (5/6 Hrs) 
Day 05 starts with the morning breakfast and then you would trek the distance of Zangla Sumdo which is located at a distance of around 4 km from here. The first session of trekking trails through the estuary of Zanskar River and the second half bends towards the gorges of Zangla Sumdo. 
Day 06: Trek Zangla Sumdo – Ningrila (5150m) – Niridoksa/ Shade Pullu (6/7 Hrs)
Day 06 starts with the breakfast at Niridoska and after that you will trek towards Niri La which is located at an elevation of around 5150 m. to reach here traveler would require covering the distance of 3 km which would take around 3 hour and after reaching here on can get stunning view of the surroundings. Once you will reach the trails of Niri La traveler would fall back to Niri Doska and here they will call off their day.
Day 07: Trek Niri Doksa / Shade Pullu – Lar-La (4850m) – Ningri (7 Hrs)
Day 07 starts with the trekking trails that bend towards the easy walk of Lar La and from here again you would walk an uphill for couple of hours to reach the top which is surrounded by the glory of mountains. After spending some time trekkers would flow downstream for 2 hours to reach Ningiri which is located at a distance of around 2 and half km from here.
Day 08: Trek Ningri – Gonteng La (5000m) - Shade (6/7 Hrs)
Circuit of trekking trails in day 08 passes through numerous pass before it navigates towards an uphill where you walk for around 6 to 7 hours to reach Shade. While trekking here they would come across the reverie of Goteng la which is located at an elevation of around 5000 m and here you can view the brilliance of landscape. 
Day 09: Trek Shade – Nialo Kontse Base (5/6 Hrs)
Morning at Trek Shade starts with the pleasantries and from here you will continue your journey to reach serene hamlet of Tantak and then again you would trek the gradient path which would lead you to the Nialo-Kontse-la base where you will end your session for day.
Day 10: Trek Base Of Nailo Konts – Nailo Kontsela (4850m)–Gontunda La (5100m) - Marshun (7/8 Hrs)
Day 10 starts with the quick grab before ascending towards the top of NialoKastse La which would take around half hour of continuous trek. After reaching the top traveler can stand here for a moment before walking the distance of Gotunda la which is located at an elevation of around 5100 m. 
from here traveler can start their ideal slow trek to reach the top of Guntundala which will take around 1 hour to reach the site. After reaching here trekkers can take a breather or a rest for some time before traveling down to their base camp where they would spend their night.
Day 11: Trek Marshun – Muneli (6 Hrs)
Day 11 starts with the morning breakfast at camp and then you would take a clear route from the left bank of the river to reach Shun Shumdo village and from here you will trek for an hour or so to reach Muneli which is located at a distance of around 4 km from Marshun.
Day 12: Trek Muneli - Satok Village – Tsogmetsik (7 Hrs)
Day 12 summons the trekking distance of Satok Village till Tsogmetsik and to cover the whole distance trekkers would require walking the lengths of around 5 km and it would take approximately 5 hours to end the journey for a day. 
Day 13: Trek Tsogmetsik – Juktak (3hrs) Then Drive to Leh Via Taklangla Or Manali
Day 13 finally terminates your trekking journey because from Tsogmetsik they would travel down to Jutak which take around 3 hours and from here you would drive the distance to Leh to reach your respective destinations.
Note: While going for trekking, it is very much essential to go for a doctor check up, carry all the essential medicines (if suggested by doctor), carry all the essential equipments required for trekking like a pair of trekking boots, warm cloths, wind cheater, glass, essential food, etc. One has to keep in mind to travel light as trekking is not everyone cups of tea that too in Zanskar region.