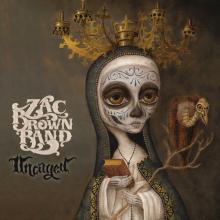 What Can Brown Do For You?
By Matt Jones
As a country band, how do you synthesize elements of bluegrass and jam bands with tropical overtones while still remaining true to your roots?
I don't have the answer for you, but maybe Zac Brown Band does. The half-country, half-hipster-bro, half-margarita outfit from Georgia has made a living doing so over a career now spanning three studio albums, with technical virtuosity to boot. Uncaged finds the band in its comfort zone, established on the country music scene but ready and willing to experiment, try new things, and just go nuts in general.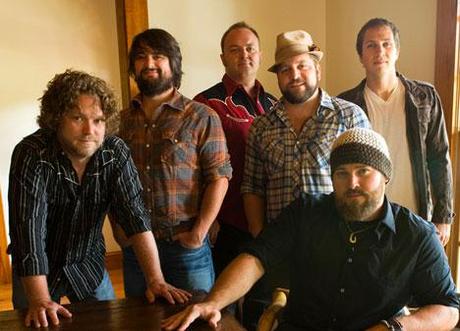 There are several highlights on Uncaged, whose title and intimidating font might trick an unfamiliar listener into preconceiving that this is the type of country music that sings exclusively about small towns, tight jeans, and "getting rowdy with your boys." But fear not, because there's no reason I would review that! There is no pandering or posing with Zac Brown Band, but there are plenty of rollicking good times. "Jump Right In" appropriately leads off the album with a strong dose of calypso flavor; it's co-written by Jason Mraz, which is a bit curious because seductive track "Overnight" is straight out of the Mraz playbook. "Overnight" features New Orleans brass legend Trombone Shorty and is a self-aware, and therefore successful, attempt at straight up R&B sexytimes that could potentially double as a backing track for Slow Jam the News.
"Uncaged" is summer fun set to a rhythm that no one can understand. In this respect and this respect only, it's Zac Brown Band's "Black Dog." "Natural Disaster" is a speedy maelstrom of a track that, in less capable hands, would sputter and die in a fit of grandiose self-importance swathed in a robe of cliches – but these are capable hands and it's one of the album's strong points. When you're as good as Zac Brown Band, you can pull off these kinds of songs. See: Neil Young, Americana.
"Sweet Annie" is, for all practical purposes, the "Colder Weather" of this album with different words. Overlap the choruses in your head, but only as you acknowledge the necessity for such a ballad in the midst of the fun, and remember that "Colder Weather" is a damn near perfect song. "Day That I Die" features Amos Lee, bringing yet another outside influence to Uncaged. It's a creative liberty that the band is more than allowed to take, considering the respectable success of its last two albums, and it pays off in yet another top-notch song.
Oh, there's also "The Wind." It's the best song on the album, and the music video is directed by Mike Judge. It features robots, beer, a T-Rex hunting trophy, and shame on you for wanting any more than that.
Although Zac Brown Band has never been one to play it safe, it's good to see them pushing even more boundaries on Uncaged without losing their essence. Trademark Zac is still abundant – flawless harmonies and instrumentals define the group, with Zac's mastery of his classical-style nylon guitar standing out as a defining feature – but there are more flavors to take in here than ever. It's a veritable stew of unique ingredients, which are both tasty and good for you, coming together in one place. That place is Uncaged and the results are delicious.
Matt's picks:
(1) Jump Right In
(2) Uncaged
(4) The Wind
(7) Natural Disaster
(10) Day That I Die – feat. Amos Lee