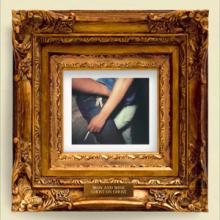 The Ghost of a Good Thing Yes That Is a Reference to Dashboard Confessional
By Matt
Sam Beam's latest Iron & Wine production is different, but it's still money. Ghost on Ghost exhibits a strong stylistic shift towards New Orleans-y jazz and reminds me a bit of Feist's Metals. Beam's same signature croon and songwriting chops are at highest visibility on every track here, but there's a brass instrument for every cryptic lyric this time around.
It's tempting to suggest that Beam's "new sound" might have probably worked better as highlights (or even cool-guy tips, really) to the sonic hair of the album instead of a perm (sorry, I just wanted to say that). The excitement of the change, after all, does decelerate significantly upon third, fourth, and fifth listens. Which is not to say there aren't phenomenal songs on Ghost on Ghost; "Low Light Buddy of Mine" and "Lovers' Revolution" are as dark and ominous as "Caught in the Briars" and "Grace for Saints and Ramblers" are light and carefree. And they maximize the impact of the brass accoutrements, although perhaps none of them catch swampy, jazzy lightning in a bottle as romantic number "The Desert Babbler," which has a steel guitar and also reminds me of the French countryside. Ultimately though, the change fits Beam's style well, and I'd like to see him progress with it. If this album is ghostly, I can't wait to see this new version of I&W with some flesh on it.

Matt's picks:
(1) Caught in the Briars
(2) The Desert Babbler
(4) Low Light Buddy of Mine
(5) Grace for Saints and Ramblers
(11) Lovers' Revolution