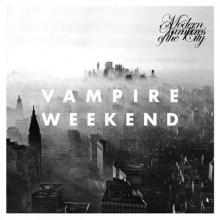 Bats … To The Future
By Eric Webb
The weekend is over. Welcome to the Vampire Event Horizon. The ever-erudite rapscallions from Columbia U have so fully realized their signature sound that they've become consumed by it — they have become, with the deftly crafted Modern Vampires of the City, their own genre.
And brother, they are killing it.
As I wrote last week, your average Vampy Weeks song is like a passport for the imagination. You've got your global flavor, from Afrobeat to French yé-yé. You've got your seemingly-indiscriminate namechecks of international locations (Providence, Phoenix, Angkor Wat, Dar es Salaam, Huey, Dewey, Louie, ad infinitum). You've got your baroque chamber grooves — get down with your bad self, harpsichord. Though it may have been true in the past, it's apparent on Modern Vampires that Ezra Koenig's gang isn't just the Pier 1 Imports of alternative bands.
Take the manic sockhop of "Finger Back." It's crisp from snare to strum, with standard-issue vocal surrealism from Koenig. The infamously pervasive cultural cherrypicking lives on (there's a nice spoken interlude about an "Orthodox girl (who) fell in love with the guy at the falafel shop"). Perhaps where Vampire Weekend and Contra previously failed was in acquitting the band of self-conscious pretension. Modern Vampires doesn't seem like a preppy tongue being stuck out of Ivy League lips, "Nyah!" style. Track after track reveals new a maturity that cherishes a lived-in worldliness; it's less study abroad, more walkabout.
Experience makes this album tick, like clockwork, in 12 tracks. It's not just musical confidence, though that's obvious, too. (Even twitchy songs like the ubiquitous "Diane Young" sound more cohesive than anything from the "A-Punk" era, and "Worship You" is technically a hell of an inventive rap song.) Modern Vampires is the about some young guys who got out of the dorm and into the real world, and they figured out that the world can't be figured out. The beautiful, dreamy "Obvious Bicycle" sets the agenda out with detached cool: "Oh you ought to spare your face the razor/Because no one's gonna spare their time for you."
Speaking of "killing it": It's not all depressing, but this album is uncompromisingly pragmatic. For all its musical and lyrical frivolity, mortality lurks over Modern Vampires' shoulder like Vlad the Impaler himself. Chipper "Unbelievers," the best track on the album, is concerned with the wages of sin and eternal fates. The chorus of "Everlasting Arms" might as well be a thesis statement: "Hold me in your everlasting arms/Looked up full of fear/Trapped beneath the chandelier/That's going down." And, well, I don't have to tell you what "Diane Young" sounds like if you say it ten times fast.
Maybe I'm blind to Vampire Weekend's worst excesses. I'll even admit I'm a sucker for entry-level indie rock. What the band does on Modern Vampires of the City, I'd like to think, is legitimize their M.O. They could have become self-parody; instead, they got older. Don't we all?
Eric's Picks
(1) "Obvious Bicycle"
(2) "Unbelievers"
(3) "Step"
(6) "Hannah Hunt"
(7) "Everlasting Arms"
(8) "Finger Back"
(9) "Worship You"