I have had this recipe sitting as a "draft" for months now, and just today (thank you Emily!) a friend posted it on Facebook. No idea what I've been waiting for!  This may sound like a mildly heavy vegan dish for spring temperatures, but it is so delicious, it's worth feeling a bit full.  Pair it with an arugula salad or a bed of mixed greens, and even a crisp white wine if you enjoy that sort of thing.
1 large butternut squash, cut into large bite-sized chunks
2 red onions, cut into wedges
5 TSBP olive oil
Sea salt and black pepper
3½ tbsp tahini paste
1½ tbsp lemon juice
3 tbsp water
1 small garlic clove, crushed
1 TBSP
1 tbsp za'atar
1 tbsp roughly chopped parsley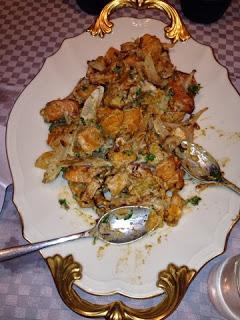 Heat the oven to to 425 degrees. Put the squash and onions in a large bowl, add three tablespoons of oil, a teaspoon of salt and some black pepper, and toss well. Spread, skin down, on a baking sheet and roast for 40 minutes until the vegetables have taken on some color and are cooked through. Keep an eye on the onions: they may cook faster than the squash, so may need to be removed earlier. Remove from the oven and leave to cool.
Put the tahini in a small bowl with the lemon juice, water, garlic and a quarter-teaspoon of salt. Whisk to the consistency of honey, adding more water or tahini as necessary.
Pour the remaining oil into a small frying pan on a medium-low heat. Add the pine nuts and half a teaspoon of salt, cook for two minutes, stirring, until the nuts are golden brown, then tip the nuts and oil into a small bowl.
To serve, spread the vegetables on a platter and drizzle over the sauce. Scatter the pine nuts and oil on top, followed by the za'atar and parsley.