Winter has finally arrived in New York, and nothing answers a craving for a cold weather meal like a bowl of hot, homemade soup.  We all know I like to create as I go, so before the flurries began, I headed to the local market to see what matched my mood.
For today's recipe you will need:
3 TBSP extra virgin olive oil
1 shallot, finely chopped
5 oz shiitake mushrooms, chopped
16 oz riced cauliflower (you can do a fine chop on chopped in a food processor if you can't find this ready made)
1 c organic 
vegetable stock
1 tsp dried onion flakes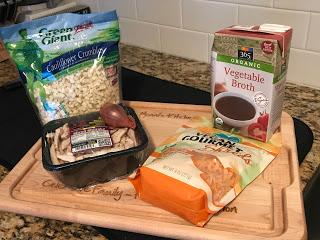 1/2 tsp garlic powder
1/2 c almond milk
1 TBSP vegan butter
1 c shredded vegan cheddar cheese 
Salt to taste

Heat 2 TBSP of your extra virgin olive oil in a medium sauce pan.

Add the chopped shallots and sauté until they start to brown.

Add the last tablespoon of EVOO and your cauliflower, just so the cauliflower starts to cook.

Stir for 2 minutes and add the chopped mushrooms, vegetable stock, garlic powder, onion powder, a few pinches of kosher salt 

and vegan butter.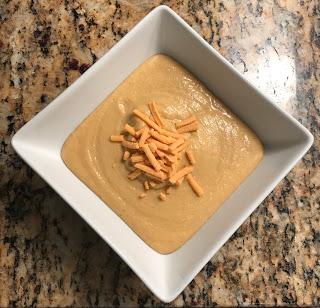 Increase the heat, add the almond milk and bring to a boil for 5 minutes, stirring consistently. 
Add cheese and continue to stir while it boils for 1 minute.
Remove from heat and let sit for 5 minutes. 
Using an immersion blender or traditional blender, purée soup until smooth
When ready to eat, reheat if necessary, and top with a little extra cheese if you like, or a piece of crusty bread.  This might be the best soup I ever made!