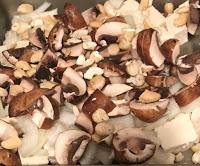 I know I haven't blogged for The Trendy Vegan very much these past few months.  It seems work and life in general have just been busier than ever.  I still cooking when I can make the time, creating new recipes or making old ones I love, but tonight I somehow found a few minutes to share a new recipe with you.  (You should follow @thetrendyvegan on Instagram to see what I do more regularly!)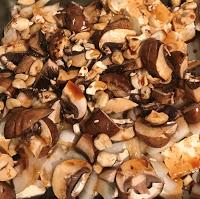 I had purchased a package of extra firm tofu that was leaving me uninspired. I overlooked it, choosing instead to slice two large zucchini on my mandolin for dinner tonight.  I lay the zucchini out in thin, overlapping layers on an aluminum foil lined baking sheet, and sprayed them with cooking spray.  I topped them with panko crumbs and vegan parmesan, and added some kosher salt and then baked them at 400 degrees for 30 minutes.
Meanwhile, just yesterday I was at a small farmer's market on my way home from the Berkshires.  They don't have a lot to offer, but it somehow calls my name when I drive by. I picked up a large handful of mushrooms, organic garlic, an onion, avocado and lime for my fan favorite guacamole, a delicata squash and some other too-good-to-leave-behind items.
As I finished the zucchini, I remembered the tofu and the farmer's market finds. I recently heard about an Asian recipe that piqued my interest, and had forgotten about the new bottle of tamari in my pantry. The next thing I knew, I was prepping a new dish.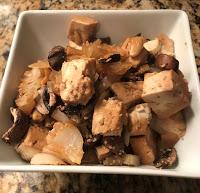 I cut the tofu into bite sized chunks and put it into a square baking pan.  I added half of a chopped yellow onion, 3 cloves of chopped garlic, the mushrooms, stems removed, I had purchased yesterday, and a handful of chopped, raw, unsalted cashews.  I topped it all off by drizzling tamari over the top, followed by an almost equal portion of agave, and a thin coating of Gomasio seasoned sesame seeds.  I set it in the oven at 400 degrees, also for 30 minutes.  I'm not sure what to call it, so I'm going with healthy Kung Pao tofu.
It was good, but if you want it to be better than this totally baked version, not to mention a little crispy, here's what I'd do differently.  Sautee the onions and garlic first in a little of sesame oil in a large pan or wok. Add the remaining ingredients and cook until the agave is sizzling and sticky. The zucchini was good too, but I wouldn't recommend eating them together!