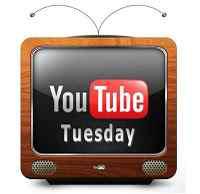 YouTube Tuesday, adopted from Josh at Its Tiger Time, is a day set aside for sharing your favorite video.
Feel free to join in each week and see how creative we bloggers can be. Each month, Josh will highlight a selected video and present the winner with the 'YouTube Tuesday' Award.
If you participate, remember to leave your YouTube Tuesday link at Its Tiger Time as well as all the blogs you visit.
I know it's been weeks since I have done YouTube Tuesday. But, I am back in full effect this week! I am pumped and calling out to all my fellow BlockHeads. Break out your New Kids on the Block memorabilia and tell me who's yours and My Favorite Girl…
Now throw your hands in the air and wave 'em like you just don't care and if you are a fan of Donnie D somebody say Oh Yeah!!!
Now somebody,anybody, EVERYBODY scream…
My Favorite Girl- New Kids on The Block

My favorite girl, oh, she's my favorite girl, don't you know,
my favorite girl, oh, she's my favorite girl.
You walked into my life, your love was so new,
and nothing will ever change my feelings for you,
well, you were so far away, now I am close to you, girl,
so let us run away, our heart that's waiting will stay.
My favorite…
There's so much I like in you I can't go on,
I wanted a girl like you I've looked so long,
girl, nothing will make us wrong, I know our love is too strong,
let's leave the rest behind, our dreams ask what we will find.
My favorite…
My favorite…
[Rap:] She's my favorite girl, the one I'm always thinking of, that one.
[Rap:] My favorite girl, the one I love.
My favorite… [repeat & fade ad lib]