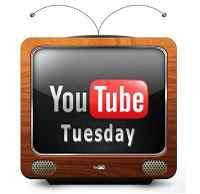 YouTube Tuesday, adopted from Josh at Its Tiger Time, is a day set aside for sharing your favorite video.
Feel free to join in each week and see how creative we bloggers can be. Each month, Josh will highlight a selected video and present the winner with the 'YouTube Tuesday' Award.
If you participate, remember to leave your YouTube Tuesday link at Its Tiger Time as well as all the blogs you visit.
I know it's been awhile again since I have partook in the YouTube Tuesday festivities. I actually considered not doing it because my musical knowledge is out of this world but, I can never remember the song I want or even narrow it down. Luckily for all of you, I found it easy to narrow down today because it is exactly 9 months to the day when my sister Jessica passed away. (Hey, I'm a poet you know I will rhyme unintentionally.)
"But, Jen why does everything in your blog have to revolve around your sister's death and not her life?" You may ask.
Well, if you give me a minute to type I will tell you how I chose this video because my sister loved Metallica. She use to smuggle the cassette tapes into our home and our step-mother would take them away and destroy them. The devil's music… all that, you know yada yada. Although, I am still trying to figure out how supposed Christian's who condone child abuse and even partake in it, can hear and understand Satan's supposed words in music and not be at least partially evil but, I digress!!!
The point is that something that sounds loud and evil-like isn't always as it appears. The lyrics to Metallica songs are actually very impressive for a group of their time. I will post the lyrics to the Metallica version of this song even though I am not posting Metallica's song. Right before my sister passed I discovered the musical stylings of Buddha Lounge and their renditions of Metallica's songs. I found it easy enough while searching online for "Buddha." This is the first time I have listened to any of these songs since my Jess passed away. The music is soothing but, because all I can hear is Metallica's lyrics…well, you get the picture.
Now just sit back, close your eyes, and let the Buddha Lounge rock your senses deep into enlightenment and beyond. By the way, these lyrics I am posting of the original Metallica song -Unforgiven actually are quite fitting of my childhood.
Buddha Lounge- Renditions of Metallica The Black Lounge- Unforgiven
Note: These lyrics are for Metallica's Unforgiven not this particular video but, if you are up on your Metallica knowledge (like I am) you can actually hear where these lyrics fit in.
New blood joins this earth
And quickly he's subdued
Through constant pained disgrace
The young boy learns their rules
With time the child draws in
This whipping boy done wrong
Deprived of all his thoughts
The young man struggles on and on he's known
A vow unto his own
That never from this day
His will they'll take away-eay
Chorus:
What I've felt
What I've known
Never shined through in what I've shown
Never be
Never see
Won't see what might have been
What I've felt
What I've known
Never shined through in what I've shown
Never free
Never me
So I dub thee UNFORGIVEN
They dedicate their lives
To RUNNING all of his
He tries to please THEM all
This bitter man he is
Throughout his life the same
He's battled constantly
This fight he cannot win
A tired man they see no longer cares
The old man then prepares
To die regretfully
That old man here is me
What I've felt
What I've known
Never shined through in what I've shown
Never be
Never see
Won't see what might have been
What I've felt
What I've known
Never shined through in what I've shown
Never free
Never me
So I dub thee UNFORGIVEN
(instrumental)
What I've felt
What I've known
Never shined through in what I've shown
Never be
Never see
Won't see what might have been
What I've felt
What I've known
Never shined through in what I've shown
Never free
Never me
So I dub thee UNFORGIVEN
whoa, whoa
Never Free
Never Me
So I dub thee UNFORGIVEN
You labeled me
I'll label you
So I dub thee UNFORGIVEN
Never Free
Never Me
So I dub thee UNFORGIVEN
You labeled me
I'll label you
So I dub thee UNFORGIVEN
Never Free
Never Me
So I dub thee UNFORGIVEN