Located at a distance of 47 km from the south of Srinagarthe capital of Jammu and Kashmir, Yousmarg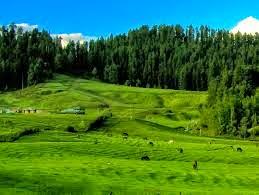 or Yusmarg is a renowned hill station where tourist from all across the world comes to allure an adulating height of its pristine location.


Mythology

As per the local people The Alpine valley which was transformed into snow clad mountain was a blissful approach of Lord Jesus Christ and the people here are of belief that Jesus stayed here for some time and converted the beauties into wonders by adding pine and fir into the meadows of Alpine.

Etymology

When it comes to its name which is commonly renowned as Yousmarg or Yusmarg shares its history and affiliation with Lord Jesus Christ and the meaning of Yusmarg which they relate is The Meadow of Jesus.

Geographical Features

As the site is perched perfectly at a distance of 13 km from the southern flanks of Charari Sharief addressing the banks of Doodganga River which is a channel streams of popular Jhelum River. From here one can naturally view the terrestrial magnificence of Pir Panjal peak, the sunset peak and Tatakooti Peak.

Importance of Site




As the virgin beauty and its unpolluted simplicity which in turn have perfectly womb the natural symphony within its shades is of great importance. One must understand its potential and peculiar hegemony which can be used as eco tourism destination where one would have brilliant opportunity to interact with sophistication of Mother Nature. Beside that another important features of the site is that it serves as gateway to many other tourist attractions that surrounds the site of Srinagar.