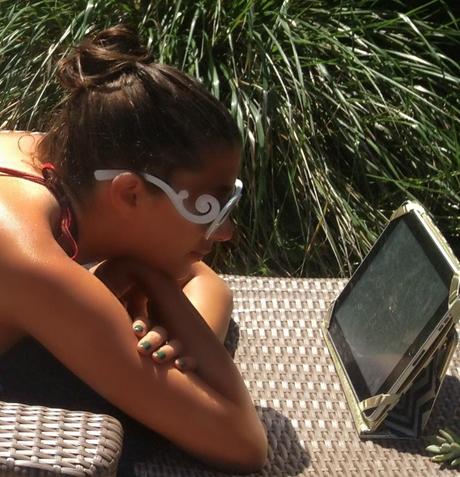 Summer is almost here, and the sun is already shining… brightly. This past weekend was so beautiful, so much so that I actually laid out the whole entire day. When my roommate told me this weekend was going to be even warmer, I was beyond excited to spend my weekend working on my Vegas tan & relaxing on the beach. All this heat got me thinking, I really need to start prepping for the next couple months!! I have decided to put together a little summer must have list for all of you guys!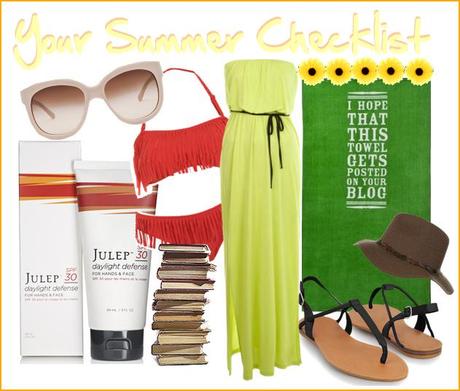 From left to right (sort of…)
First & foremost, please wear sunscreen this summer, everywhere. For all of you tan-addicts, did you know that sunscreen only SCREENS a burn… sunblock is the one that actually BLOCKS all color. That being said, wearing sunscreen will still give you that epic tan you are looking for. Look for one that is chemical and BPA free though, like the daylight defense from Julep.
Summer shades are always so fun to shop for. This summer I am really feeling white shades, such as the ones I am wearing above. Stella McCartney also makes a great pair of ivory sunnies that I have on my wish-list.
Cute bikini's are a must. Stock up on 2 or three this summer, just to make sure you have enough options! Fringe is in, which is why I love this tangerine fringe bikini from Miss Selfridge. I also scored an adorable bikini from Soriya- they have some pretty cute suits with cheeky bottoms (my favorite).
Put together a summer book list. I always have a list of books I want to read during the summer. Magazines are a snooze and way to expensive… why buy one of those when you can spend a couple more bucks for a bestseller novel. I don't know, that's just my opinion. I love to read, so much so that I actually started a summer book club… first book: The Dharma Bums by Jack Kerouac.
Maxi dresses are my go to during the summertime. They are comfortable and are easy to pull off without looking like you are trying too hard. Not to mention they keep you cool during the hot summer days. The neon yellow maxi seen above is absolutely to-die-for.
Cute towels always make the beach/pool that much more fun, right? Atleast for me they do! I love this adorable beach towel from Target, especially since I am a blogger… but you already knew that. Atleast I hope so.
Hats are a great summer staple, not only because they are extremely adorable, yet they keep the sun out of your face- which further prevents wrinkles. I am personally loving trilby hats (like this one) for summer 2012… I am pretty much over the wide brimmed ones as they got played out too fast.
Grab yourself some new sandies!!! Get yourself a fun, yet basic, pair of strappy sandals to rock all summer long. Last year I got silver, this year I think I am feeling black sandals… what color sandals are you pining for?