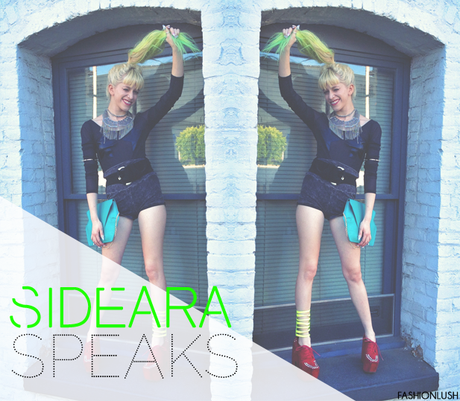 Before Sid takes ovs le blog today, I wanna talk a sec about the VMA's. It's my favorite award show ever. Always outrageous (can we even talk about Miley's ass??? WTF) and always gives me goosebumps (Macklemore & Ryan Lewis performing Same Love was epic).
Yet, the best part of the 2013 VMA's was easily the Katy Perry Promo. Why? Ummm…. did you not recognize that mini green haired cutie in the front? It's our very own Sideara. I swear she just gets cooler and cooler by the day. When I saw it for the first time, I was literally jumping on the bed with excitement. So proud!!
Now, the star herself will tell you all about it… ENJOY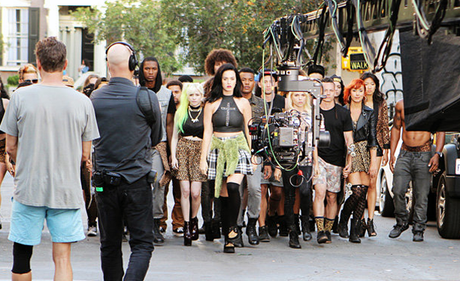 I've only been on TV once before and I was 7, so when my agents called about sending a cellphone photo of myself for them to forward to MTV I was pretty excited. They needed to confirm that my hair was still green, and luckily I had just touched it up. There was no audition for me, although when I got to set (it was the Paramount lot, equally exciting just to be there) and I talked to the other actors/dancers, there was an audition process most of them had went through. So I was a rushed add-in.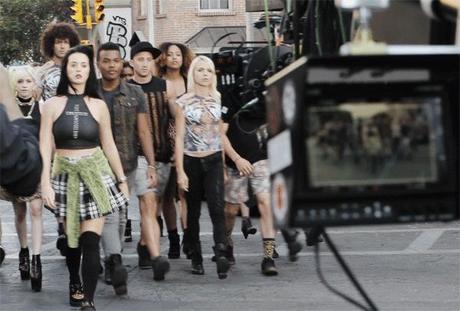 I didn't know what I was doing for the first 4 or 5 hours of the day, I didn't get added to the choreographed performance they were creating until much later. I thought this meant I wouldn't be visible, but it wasn't too important to me. I was grateful to be meeting great people, working with a super talented choreographer (whose name escapes me, unfortunately), and to be on the Paramount lot. I didn't even know Katy Perry was going to be there, although most of their assigned names were 'Katy Cats.' Mine was 'Crazy Hair'. Haha.
It was completed over two days, first day was rehearsal and the second day we shot. There were so many people to control that it was kind of just gestured where I would stand… So I sat on the cop car. How could I resist?? Nobody complained and the kid who was doing a flip over it didn't have a problem, so I was golden!! The timing was a little hard to keep up with in my heels but I got it, and managed not to eat shit. I did stumble in one take though, which probably rendered it useless. Oops, sorry everyone.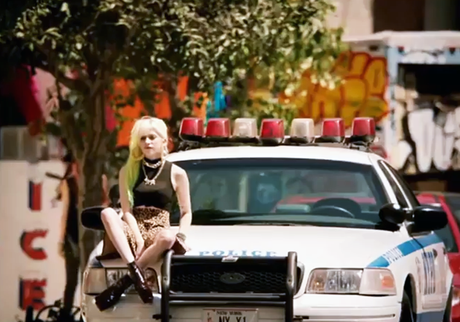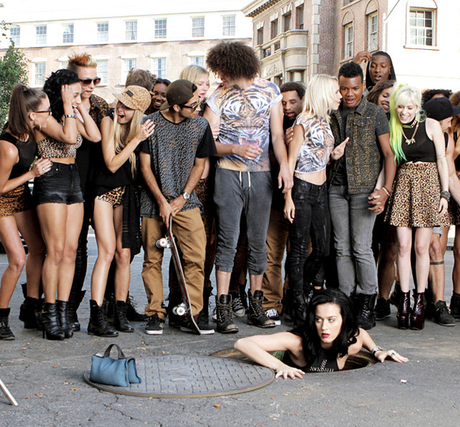 So, what was Katy Perry like? She made jokes the whole time and seemed a bit nervous or insecure, very real, and very kind. At the end of the day she took the time to shake all of our hands, and joked/ talked a lot with us between takes. It seemed that everyone working for her was a good friend of hers. I've seen part of her documentary and she definitely comes off in real life the same way she did in the film.
Overall it was a pretty amazing experience and I'm so grateful for the support I'm getting from friends, but I can't wait until I have a televised speaking role whether it be in a commercial, show, or ideally I work on a major film. Baby steps!
XO IX.
Sideara
P.S. Here is the viddy, if you didn't see it already on MTV.
(source)