Frozen yogurt is the new craze.  In the growing number of wittily named stores (you know who I'm talking about) opening up around the capital, this fashionable treat deceptively looks like ice cream – swirling round and round to a perfect glistening Mr Whippy style point, it tastes silky and smooth like ice cream, and it is drawing in hordes of sun-scorched bodies looking for a creamy cool down…just like ice cream.  BUT, it is not ice cream.  It is even better than ice cream.  And not just better in a 'rub tummy and smack lips' kind of way, but better for you.  We are all told so much at the moment about what is bad for us – fat is BAD, sugar is VERY BAD and these two together in a scoop or two of rich, fat-laden goodness are bound to cause a health-conscious reaction.  Frozen yogurt keeps alive the creamy and dreamy part of ice cream, but is also refreshing and light.  The slight tang of the yogurt counteracts the sweetness that is often the main feature of many ice creams, making it melt all the more easily down hungry throats.  And I can vouch that it really does slip down more easily after the frozen yogurt-related incident that occurred when I made this recipe – sitting in the garden, tub of frozen yogurt shielded protectively in lap, spoon shovelling away, I scooped away crying out, 'You know it's really healthy this yogurt, that's why I'm eating so much of it, it's not as bad for you as ice cream, almost a health food really…'
This recipe is seriously easy and can be adapted to add in all sorts of goodies.  The original uses low-fat natural yogurt, but I used half Greek yogurt and half low-fat natural yogurt which makes it a bit creamier whilst still retaining the fresh tang.  For sweetness, this recipe uses icing sugar and then honey for flavour, but you could also use agave nectar, other types of honey or even a home-made caramel.  Other good combinations would be white chocolate and berries, tropical fruit and mint, and dark chocolate and brazil nuts with a bit of grated orange zest.  Whatever you fancy!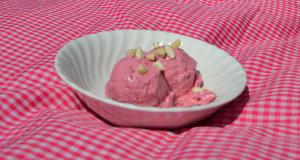 Honey, almond and raspberry frozen yogurt
Honey, almond and raspberry frozen yogurt
Adapted from Silvana Franco
Ingredients
50g icing sugar
300g frozen raspberries
4 tablespoons clear honey
250g low-fat natural yogurt
250g Greek yogurt
75g unblanched almonds
Line a 900g loaf tin with freezer film.
Sift the icing sugar over the raspberries in a bowl and then drizzle over the runny honey,  Stir together well and then add in the yogurts and the almonds.
Spoon into the lined loaf tin, levelling off the surface.  Cover the top with freezer film and then leave overnight.  Alternatively, put the mixture into an ice cream machine and churn until the mixture is very thick.  Transfer the mixture to a container and put into the freezer for a couple of hours.
If using a loaf tin, turn out the ice cream and cut into slices to serve.  If using an ice cream machine, scoop out several balls of the frozen yogurt to serve.  Sprinkle with a few chopped almonds and serve with some fresh raspberries.