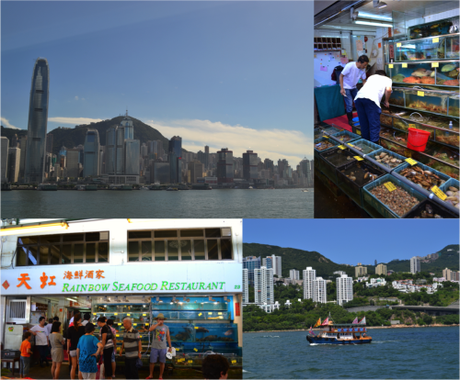 Lamma Island
Looming up in a fistful of skyscraper digits, Hong Kong is a clash of cultures, a city in the tropics, an infectious buzzing throng in a cocoon of tranquillity.  Two of my best friends hotfooting it out of the UK and setting up camp in Hong Kong was the perfect excuse to visit this pulsing city – an impulsive but brilliant decision.
I had heard wild stories about Hong Kong.  Expats living the high life in Asia; partying, boozing, cruising and, erm, more partying.  Stories that became reality; a real life rollercoaster of fun-filled nights out, breezy boat trips through the shimmering turquoise waters of the bay and, of course, fabulous food.  A huge sense of community and inclusiveness ripples through the city, any newcomer being welcomed with open arms (and a vodka jelly syringe) into friendship groups.  I love London with all my heart, but us Londoners tend to be be a bit frosty – this made a refreshing change.  A city with a financial focus, of course there is some cash flashing.  But if the cash is being flashed at you, it's really not too much of a problem.  Especially if the cash being flashed is used wisely, on something sensible and long lasting like a round of Sambuca shots.
One of Hong Kong's surprises was that it's not just a city.  Dumbo.  I stupidly believed that.  It doesn't say much for my GCSE Geography.  Hong Kong Island not only has its vibrant, colourful city but it also has sun-soaked beaches, calf-crunching hiking and spectacular views that give you a sharp beautiful jolt, reminding you that you are indeed on a tropical island.  This was a great surprise, but not as exciting (obviously) as the discovery of the FOOD in Hong Kong.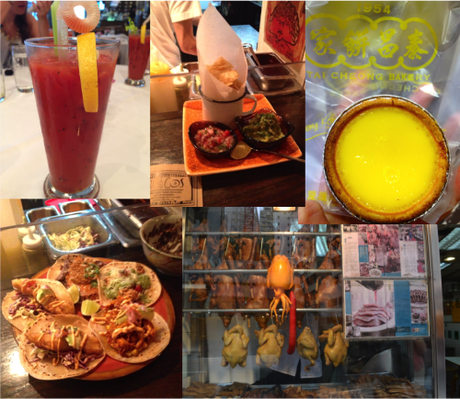 The food is hugely eclectic, varying from authentic Chinese, either from a strip-lit noodle shop, or from the exclusive China Club, to Peruvian, Spanish, French, American, endless cuisines and gastronomy that reach the heights of any other culinary metropolis.  I couldn't deny myself a solo visit to Tim Ho Wan, the world's cheapest Michelin-starred restaurant (cheap, so CHEAP!).  For the equivalent of about £8.50, I ate my way giddily through sweet, flaky buns filled with sticky char sui pork, delicate steamed dumplings bursting with juicy pork and prawn and crisp savoury bean curd rolls.  Forgetting that each dish comes with at least three or four dim sum, I was bombarded with a hefty amount for one person, much to the amusement and disbelief of my tablemates.  I mean, I know I'm greedy, but their slight embarrassment at the steaming baskets that continued to be put down in front of me hammered it home.  A cheap as chips vegetarian meal at the Po Lin Monastery on Lantau Island was basic but flavoursome.  A bit murky, but better than it looked, and a real taste of simple Chinese cooking.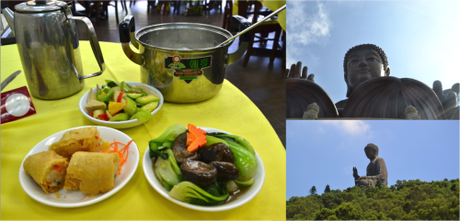 Vegetarian feast at Po Lin Monastery
Lunch on Lamma Island at Rainbow Seafood restaurant looking out over the sea was a feast of fresher than fresh fish and seafood (lunch picked out of a fish tank was a new one on me).  Black cod skewers with ponzu miso and rocoto chilli aioli and pan con chicharones – a Peruvian slider of crisp edged melting pork belly with aji amarillo paste cushioned within a soft white bun at Chicha.  The super trendy Brickhouse, all exposed brick walls, teetering stools, and graffiti, wouldn't have looked out of place in London.  Located deceptively at the end of a narrow alley, it dished up some serious Mexican; authentic grilled corn with chilli, mayo, lime and queso fresco, pulled pork-stuffed soft tacos, and gooey queso fundido – a bowl of cheese-topped black beans so melted and stringy that they give you scissors to hack your way through it.  The best pain au chocolat I've ever tasted at The Mandarin Oriental – so mesmerizingly delicious, we had to go twice.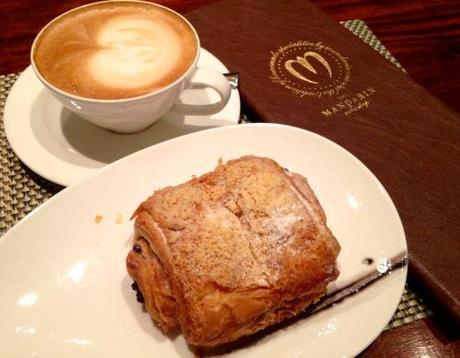 Mega pain au chocolat at The Mandarin Oriental
Amongst all this culinary continent hopping, there was one thing that I missed out on, and I can't get it out of my head: Chinese crispy duck.  I happened to have a whole duck hanging out in the freezer, as you do, so I decided to conjure up this Chinese dish back home – somewhat excessive for three of us but as I always say, 'If you're going to do something, you might as well do it properly…'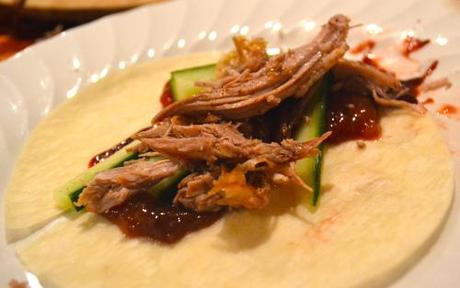 Hong Kong-inspired Crispy Duck
From Jamie's Dinners 
Ingredients
1.2 kg duck
salt
five-spice
fresh ginger
10-12 destoned plums
5 tablespoons sugar
2 pinches five-spice
2 tablespoons soy sauce
½ teaspoon chilli powder
grated orange zest
½ cucumber
1 bunch spring onions
2 packs pre-made pancakes
Preheat the oven to 170ºC/325ºF/gas 3. Rub a nice 1.2kg duck with loads of salt, inside and out. Dust the bird all over with five-spice and, if you've got any, grate some fresh ginger and rub it round the cavity, leaving the ginger inside to flavor. Place the duck in a roasting tray and put it in the oven. All you need to do is check on it every so often and spoon away the excess fat that has rendered out of the duck. This will make the skin go wonderfully crispy. Generally, after a couple of hours it will be perfect – the leg meat will pull off the bone and the skin will be wonderfully crisp. You don't always need to, but I sometimes turn the heat up to 200ºC/400ºF/gas 6 for a short while until it's really crispy.
While this beautiful bird is cooking, you can make your plum sauce. Chuck 10 or 12 destoned plums into a pan with 5 tablespoons of sugar, a couple of pinches of five-spice, a couple of tablespoons of soy sauce, half a teaspoon of chilli powder and a splash of water. Bring to the boil, then simmer until you get a nice shiny pulp. You can remove the plum skins if you want to, but I usually leave them in. Sometimes I add a little grated orange zest, as this goes well with duck. Put the sauce to one side to cool before serving it, and taste to check the seasoning.
As for the spring onions and cucumber, that's straightforward. Use half a cucumber and a bunch of spring onions and finely slice them. I strongly advise buying a couple of packs of pre-made pancakes which you can place in a steamer or microwave and slowly steam until nice and hot. The bamboo steamers are only a few quid from Chinese supermarkets, so it's worth getting hold of some and they're great to serve at the table.
Once the duck has cooled a little bit, use two forks to shred all the meat off the carcass. I remember the Chinese lady at the restaurant in Sawbridgeworth doing this. You can do the same, putting all the meat with its crispy skin on to a serving plate. Take a pancake, place some duck, a bit of spring onion, a little cucumber and a dollop of plum sauce on to it, then roll it up – lovely.