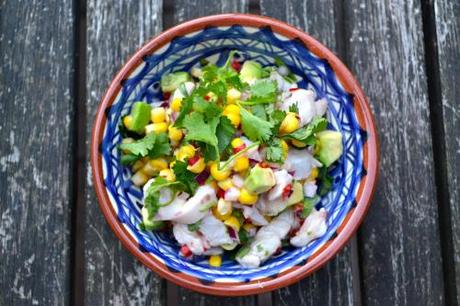 As autumn waits to cast its ochre cloak, I wanted to make something that sings of summer, a dish  that zings and bursts with flavor  to enjoy while the sun still shines.  Ceviche is the perfect foil to a hot summer's evening – cool lime-infused sea bass, firm and succulent, paired with nuggets of fresh crunchy corn and cubes of creamy avocado.  The explosion of flavor you get from minimal cooking effort speaks volumes for the bare ingredients.  I really pushed the boat out and bought the freshest seabass from Moxon's fishmongers in Clapham – it makes it all too easy to take the lazy way out, avoiding the filleting, de-boning and de-skinning of the slippery glistening fish.  Guzzle it down before we tip the seasonal see-saw…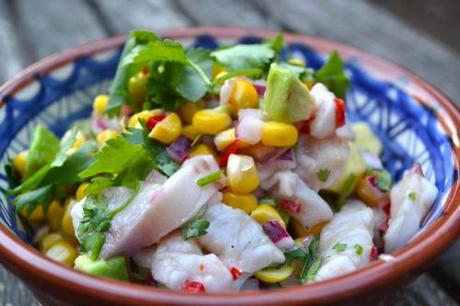 Seabass, Corn and Avocado Ceviche
Serves 4
Ingredients
400g skinless and boneless sea bass fillets
½ red onion, finely chopped
½ tsp salt, plus extra to season
Juice of 4 limes
1 red chilli, finely chopped
2 corn on the cobs
1 avocado
Small bunch of coriander, roughly chopped
Finely dice the onion and put into a bowl.  Cut the fish into 2cm cubes or slices and add to the bowl along with the salt, lime juice and chilli and leave to marinate for about 10 minutes.
While the fish is marinating, cook the corn on the cobs then slice off the kernels.  Cut the avocado flesh into cubes and add both to the marinated fish with the chopped coriander and give everything a mix.
Serve garnished with more coriander.