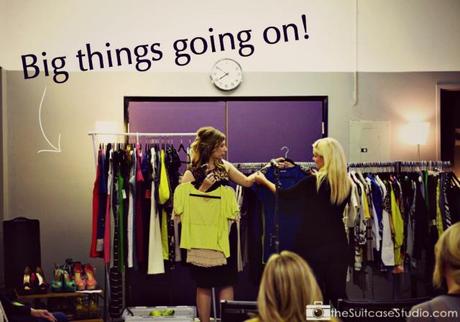 I am not a fashion blogger. If you're like me, you stay away from scary $40 price tags and blaze a hot trail to the clearance section, hoping you don't kick a small child in the face along the way - only to find out later that you really suck at shopping because you bought the same gray v-neck – AGAIN. Yes people, this is my life.
But it doesn't have to be that way.
My pal Nicole of The Wardrobe Code is one talented lady. And after having a similar frumpy experience a few years back (yes! she used to feel frumpy!), Nicole ingeniously used her design background to turn her closet into a fabulous work of art - on a budget.
Today, she's helping every type of woman achieve the same thing: feeling good about what they wear, identifying their key style, maximizing their wardrobes WITHOUT shopping, and saving money along the way (to name a few)!
On Saturday, June 2nd, Nicole will be hosting her popular personal lifestyle workshop, Reclaiming Your Wardrobe, and is inviting you to join in! Nicole is so enthusiastic about her work, she guarantees this experience will change your life for the better.
Over the past 18 months of heavily-invested time, research and energy, Nicole has identified key mistakes that women consistently make with their shopping and is passionate about revealing her "closet secrets" to help women feel more successful, confident and excited about their wardrobe – every single day! (Don't believe the hype? Read how a once-skeptical client had a change of heart).
Here's the details:
Reclaiming Your Wardrobe
Saturday, June 2, 2012
1:00 – 4:00 pm
AT
The Loft
1954 Placentia #108
Costa Mesa, CA 92627
Registration: $150
$129 with promo code, NOOKANDSEA
Now – before you get all up-in-arms about the moola, picture this: 5 years from now, you've spent hundreds of dollars (or more) on a wardrobe you still feel is sub-par. If you'd only traded in a couple of lame-o shopping trips for one day to change it all….
Maybe you could throw a bake sale, put your old shoes on Craigslist (won't be needing those anymore), or do a car wash in your bikini… just sayin'.
Whatever you do to get there, make sure to book your spot soon – and get that closet ready for a facelift!
::

Register Here

::
P.S. – The winner of the Capture Your Home lifestyle photoshoot giveaway is Amanda Smith of I Go YOU Go! Please check your inbox for a message from Sue :) Congrats!!
P.P.S. – See my guest post at Ashley's House of Glass today. I'm filling in for her while she enjoys the sunshine of Maui, and talk about my favorite vacation spot (hint: it involves iguanas, serious fishing and key lime pie)!
I've also started as a regular contributer at Victoria's blog, PISTOLdaisie. Check out my column, Inspired Interiors. Thanks for your support! Big thanks to Victoria xo