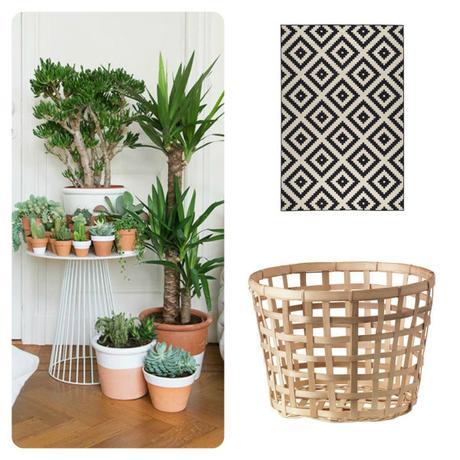 Hello, and happy summer to you!! The sunshine as of late has been outrageously abundant – so thankful we're out of the "June Gloom" (at least for now)! Summer, means summer parties, which means the house MUST be dealt with – and in my dreamland of phone notes and inspiration, here are a few things I'm eyeballing:
Potted Yucca – Lord knows I have way too many plants already, but the "indoor tree" trend is something I've been wanting to attempt. IKEA sells these for $19.99 (yes, they're real) and a little dip-dyed pot is the perfect way to add character. Stick this in the corner of your living room or bedroom to bring a little bit of the outdoors in.
Gaddis Basket – The wide weave on this is great for storing away larger items like remotes or dog toys when you need to toss them out of the way in a hurry!
Lappljung Ruta Rug – Our dining room is large, but feels bare without some warmth to the tile, metal and wood combo of our flooring and furniture set. The bold pattern of this rug is a super fun way to add visual interest in a snap, and with a great price ($99) it's an affordable option to most rug-seekers.
Any other great IKEA finds I need to know about?