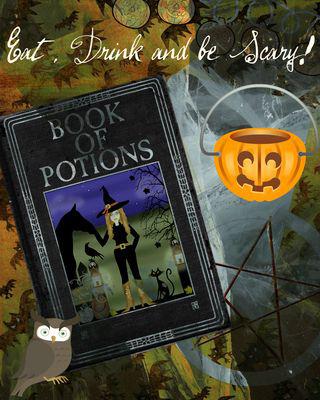 You are Cordially Invited to Eat, Drink and be Scary!
I hope you will join us!
Date: The entire month of October!
Location: Post a link to your blog in the comments section of this post and I will add your name to the Participants sidebar.  
Beginning today I will be hosting a Halloween blog party to celebrate my/our! favorite season! 
You're invited to create your own wonderful entries and share them on this site. I love to decorate for the season and I'm never very far from my kitchen, conjuring up delicious potions and decadent spells!  
I know that you do too and I invite you to share your decorations, recipes, passions, fashion, stories (spooky or otherwise!) and all around Halloween revelry with us!
 You can create a party or tell a tale....you can share photographs, your own decorations or a special seasonal dish. It can be glamourous or ghoulish, crafty or commercial...It's up to you! The whole point is to have a wonderful time with friends old and new!
And if that weren't enough we're having a contest! 
 Just email the link to your blog (where you'll post your entry) and your email in the comment section of this post. If you're the lucky one, you'll receive a 50.00 dollar egift certificate from Sur la table!  This year, there will be a runner up prize; a one year subscription to Bon Appetit! The lucky winners will be chosen at the stroke of midnight on Halloween and their names and links to their entries posted on this site.  So grab your brooms and dust off your cauldrons and let the bewitching begin!
The Only Rules!
1. Click on the "Eat, Drink and be Scary" Button  (Found on the right hand side of this blog) on the sidebar of your blog! 
2. Let everyone know that you're participating! 
3. Please leave me a link to your blog and your email address in the comments section of this post. I'll put your link up within a day of receiving it. If I miss you please email me at [email protected] and I'll take care of it right away! Please have all entries in by October the 28th!

4. Have a Bewitchingly Fabulous Time!
And..for a bit of inspiration......