I mentioned a few weeks ago on the blog that I signed up for the XTERRA Trail Run Series Wallum Lake 8k race, which I ran this past Saturday.  So let's do a little race recap, shall we? So,  like the planner that I am, I had laid out my racing outfit the night before so I  was able to relax a bit before getting ready Saturday morning.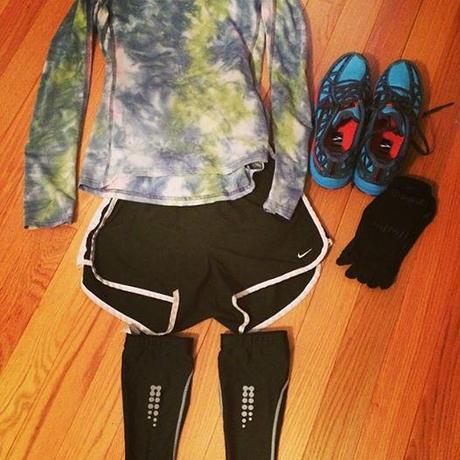 I had one of my favorite Swirlgear long sleeve shirts, my compression sleeves, my beautiful new trail running shoes, the Brooks Cascadia's , my Nike tempo shorts and Injinji run socks.   I was a little nervous to try my new shoes out for the first time in a race, but it is what it is and if I was going to try them out normally, I'd be going out for a 4-5 miler anyways, so I had my fingers crossed that everything would be okay.  So, with my clothes all laid out, I was ready to rock and roll.  Then, on Saturday morning I was awoken (WAY too early) by the sound of a monsoon outside my window.  We have a skylight in the master bedroom and the rain was coming down so hard and fast that the noise level was just too much for me to ignore.  So, I got up and looked outside and prayed to the weather gods to make it stop for my race. The ground was soaked and I will be honest, my biggest concern was getting my pretty new shoes dirty. I know, I know, it's called trail running, they ARE going to get dirty and I KNOW this, but their first trip out of the gate, I wanted them to stay clean for as long as possible.  Don't question my rationale, I know it doesn't make logical sense, but let's just go with it, okay?

So, my loving husband got up and made us all pancakes for breakfast. I don't normally eat a heavy breakfast before going to run, but I had a few hours to digest before the race (it started at 9am) so I had 2 pancakes and then got ready to leave. I left my house at 7:30 a.m. as the directions said the location of the race was about 22 miles away and would take me 40ish minutes.   I assumed it was all back roads and since I have NO sense of direction and rely on my trust GPS, I wanted to give myself plenty of time to get there, get my number and shirt and stretch before the race started.  Well, luckily the rain stopped and I arrived at Wallum Lake at 8:05 a.m. and followed the signs down into the woods towards the beach to get my bib and t-shirt. I got to walk through the start line and take a picture when it was still very quiet and no one was wandering around.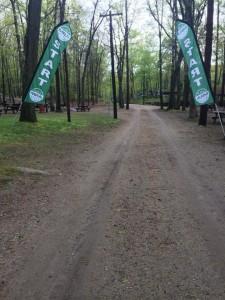 Bib pick up was the quickest and easiest I have ever encountered.  There were two wonderful women whom I gave my name to, they crossed me off the list, gave me my number and my t-shirt.  111 has to be a lucky number right?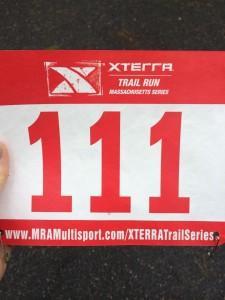 I went back up to my car to put my t-shirt away, get my bib attached and relax for a bit before I headed back down towards the start of the race.  At around 8:35 a.m. I went back down to the start, used the bathroom (score for real bathrooms, not port-a-potties) and then mingled with some of the other runners, they were all really nice, and of course, I took a selfie near the start flags!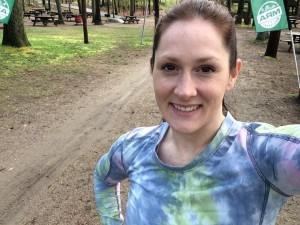 As I was looking around, I noticed a lot of people spraying bug spray.  That is the ONE thing I didn't think to bring with me, rookie move!  Thankfully, they had a communal bug spray for those of us who didn't bring our own, and for that, I am eternally grateful because even with using their bug spray, I have about 20 mosquito bites all over my body, including right on my ankle, which is the worst of them all!
Anyways, I digress.  So about 5 minutes before the start we all headed over to the starting line and people began to line up.  You could automatically pick out the die hard trail runners, those who literally lined up toeing the starting line and just looked hard core about the race.  I seeded myself towards the back right while I got my Garmin powered up, found my satellites and waited patiently.  The race director gave us some directions as there were two courses, one for the 8k and one for the 10k, we listened to all the directions, then the national anthem started and before I knew it, I heard the sound of the air horn and we were off.
We all took off running towards the finish line, going up a fire road near the parking lot.  At this point, the crowds were thick as people were settling into their paces.  I wanted to start off at a comfortable pace since I had no idea what to expect.  We quickly were going up the first of WAY too many hills and took a sharp left halfway up.  We continued down to what is called Coffeehouse Loop.  I heard the first mile of my Garmin beep but I missed my split time because I was too busy looking down at the ground.  The course so far was very rocky, there were a lot of tree roots and everything was slick with the rain that barreled down earlier in the morning.  However, while the weather cleared up thankfully, I quickly realized I made two mistakes.  The first of which was since we had rain, even though it was fairly cool out at the start, it was really humid and I got hot FAST.  I pulled up my sleeves as best I could and reminded myself that the race wasn't THAT long.  Famous last words, right?
So, moving on….we took a right to stay on Coffeehouse Loop/Midstate trail.  We came across a single track in the woods that had some rock gardens and thin wooden bridges.  I was enjoying the scenery as much as I could while trying to stay on my feet.  I slipped a few times, but luckily didn't fall.  The course thinned out a bit and I noticed I was pretty far up front which was a nice little confidence booster.   I knew a few of the people who were running the 8k because our bibs were red instead of black, and up until this point, I hadn't seen any of them on the course once we started.  At this point,  we had hit quite a few hills and my breathing began to suffer.  While I have had sports induced asthma for as long as I can remember, I have had it under control throughout  my adulthood.  However, I think given the humid conditions and running on a terrain I wasn't accustomed too, I couldn't get my breathing under control.  I stopped to catch my breath for a few seconds and then continued on.  I crossed over  the Trunkline Trail and continued up ANOTHER hill on Midstate.  Now I typically don't mind hills, but seriously, these were TOUGH, probably because they were not only steep but I had to make sure I didn't fall over slippery rocks and had to side step more piles than I'd like to count of horse s**t!  Seriously, it was EVERYWHERE!
I heard my second mile beep and again missed the pace, but I assumed it was in the very low 9′s or high 8′s given my horrible incredible math skills!  At this point I realized my second mistake…I should have brought my handheld water bottle because I was seriously thirsty.  I don't usually take any fluids when I run less than an hour, but my mouth felt like a bag of cotton balls, likely from all the heavy panting I was doing.  Thankfully, I took a sharp left (up another freaking hill) and saw the only aid course on the station.  I may have had a small tear in my eye when I saw that.  I stopped to catch my breath and grabbed a small cup of Gatorade and savored every last drop. I wanted to take another one, but people were passing me and my competitiveness got the better of me.  At this water station, the 11k runners went left and the 8k runners went right.  So I veered to the right and enjoyed a small decline before taking a left onto another trail.  At this point, I was really hurting in the breathing department.  We hit a fairly flat straight away of dirt for what I'd estimate was 1/2 mile which was great but I felt like my legs were really heavy.  I had to stop a few times to catch my breath and walked for a few seconds.  Once I started up again, I took a left onto Trunkline and took the Coffeehouse Loop back along the edge of the parking lot back to the fire road.  At some point around here my Garmin beeped for the 4th mile and I was thankful it was almost over so I could finally stop and really catch my breath.  A few male runners passed me and we both told each other good job and they flew by.  I stopped one final time once we passed the parking lot and hit the fire road that would lead us to the finish line.  I saw a big hill in front of me and cursed under my breath.
At this point, a super speedy guy (who I later found out got 2nd in the 11k) was passing me by and patted me on the shoulder, looked me in the eye and told me to push through and I was almost there.  That was what I needed to hear in that moment, as I questioned my sanity for thinking I could do this race, on this terrain.  I dug deep and pushed up that hill as fast as I could in that moment and crested the hill and saw the finish line.  I flew down the hill and crossed the finish line, so thankful I was done.
I stopped my Garmin, 4.81 miles in 43:42, an average pace of 9:05.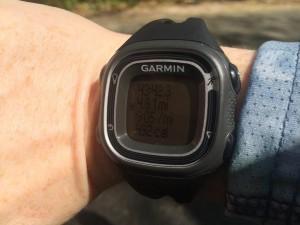 I really don't know how that  pace was even possible since I felt like after mile 1 I was struggling for every breath and step.  A nice volunteer gave me my medal and told me I looked strong as I finished.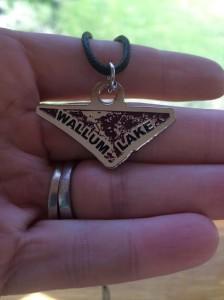 I thanked her and  I quickly made my way down towards the pavilion that was set up and grabbed a mini-bottle of Gatorade and talked with a few other runners who had finished.  They were all super, super nice and it was fun to listen to their thoughts on the course as well (they all thought it was really hill and tough too!) After about 15 minutes, I made my way back to my car because I had to get home and shower so Robyn and I could take Ashton to his swim lessons.
Here is my post race photo! Still smiling which is always a good sign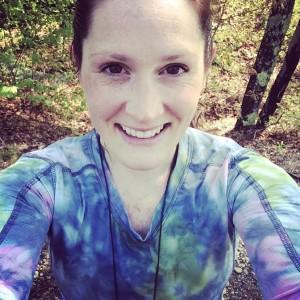 Overall, the race, while small was really well-organized.  The packet pick up was super easy and fast, the course was really well-marked with flags, tree markings and volunteers out on the course to ensure you were heading in the correct direction and the course was really beautiful, albeit hilly.
On the way home, I kept replaying the race back in my head.  I did a few things I wouldn't make the mistake of doing again, like wearing a long sleeve shirt, not bringing bug spray and not having my handheld bottle with me.  Also, I really need to work more on my rhythmic breathing, I haven't felt winded running like that in years (with the exception of speed work on the track), and at times it felt a little scary, especially being out in the woods, when most of the time, I was running alone with no one else in sight.  I also went through mentally just how different running on that terrain is than on the road.  For example, I totally zone out when I run on pavement or the treadmill, you absolutely CANNOT do that on the trails, you have to watch every single step you take while watching out ahead of you to see what is coming.  For me, that was probably one of the most difficult things.   They also didn't allow headphones for this race, another first for me. I have never raced without my music, did that make a difference, maybe?  I don't really know but I did find myself singing certain songs to myself while I was running to keep me distracted.  I know the point for many to trail running is being out in nature and enjoying the scenery, and of course, I love that too, but I don't think having a little bit of music would have hurt either.
Anyways, after I got home, I quickly hopped in the shower and got dressed so we could get Ashton to his swim lessons and in the car I was checking my email (don't worry, I wasn't driving!) and I got an email from the race saying all the times were posted and they had a screen shot of the winners in each division and overall.  I quickly looked as I was curious as to how fast the winners were able to make it through the course and I was SHOCKED into silence (a rare occasion over here!)

Not only did I just finish my first trail race (and run), but I placed in my first race and not just placed but got FIRST place in the Women's open division.  HOLY CRAP!!  To say I was stunned is an understatement.  I didn't think my time, especially given how much I had to walk would have given me an opportunity to place anywhere in the race.  While it was a small race (I think about 70 or so people) I was still really shocked.  I live in an area where the runners are fast, like SERIOUSLY fast, so the thought of ever placing in a race was non-existent.  Well, after seeing the results, I start thinking, well, the overall winner was only a little over 2 minutes faster, maybe if I hadn't stopped to catch my breath and walk so much I could have beaten her.  Crazy thinking I know, but that competitive part gets the better of me sometimes! HA!
Well folks, that's my recap of my very first trail race.  This race was #1 in a series of 3 races in my area and if my schedule allows, I would really like to do the other 2 races, but I really need to get running on the trails for practice, since clearly, I am not conditioned to run on the trails right now.  Overall, I am really happy I did something that has been on my running bucket list for a while, and even though it was SUPER hard, I am really glad I did it, pushed through and finished strong.
—————————————————————
Question of the day
Have you ever done any trail running?  Have you ever placed in a race?  Tell me about it!