Good morning!  I'm enjoying a well earned day off work today after an incredibly busy weekend at work.  I did manage to have a little fun though and spent Friday afternoon out.  I went to lunch at Alice's Tea Room which, while it was very enjoyable with great food a good atmosphere and helpful staff, didn't quite live up to its name.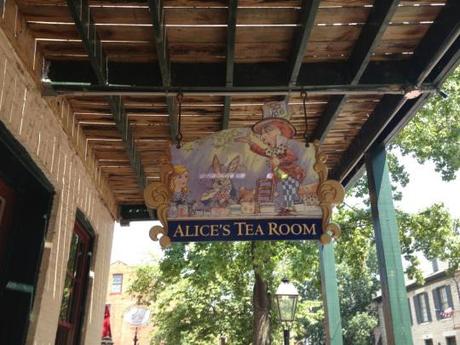 Sign for the tea room
I expected it to be a little more Alice in Wonderland along with a larger menu of tea.  Sadly there really was no Alice in Wonderland theme aside from the name of the building and they only served single serving instant beverages like coffee and tea.  Which didn't quite seem like what a tea room should do…  Although they do hold a high tea once a month which is probably a lot different than the simple afternoon lunch we had there.  Still, I guess I would have liked something a little more theme-y.
I also went to the bookstore a few doors down and managed to go in, look around, and come out without buying anything, a big accomplishment for me.  Although I didn't manage the same fit at the cross-stitch store a little further down.  My mom, after seeing my finished bookmark, insisted that I make one for her and wants it done in mostly metallic threads.  Now, if you've read my posts before you know that metallic threads and I have a love hate relationship but I'm willing to give it a try.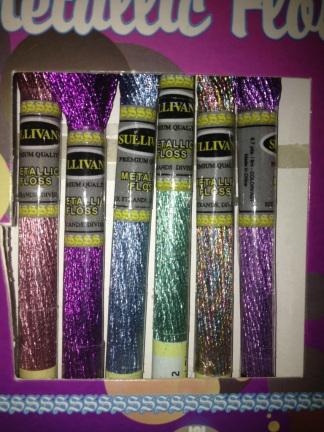 metallic threads
Here's the package of metallic floss she chose for her bookmark.  I have an idea of what colors I'm going to use.  Probably stick with a purple theme for her since that's her favorite color.  These are Sullivan brand floss so they should be a very high quality, which I'm hoping will keep them from fraying and breaking while I'm working on the design.
And of course, I have pictures of the finished bookmark to share!  I already have put it to use in a book and am please that the ends haven't frayed after being constantly taken out and put back into the book, not to mention being shoved around in my work locker while I try to make room for my purse and my book.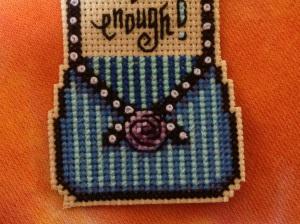 Here's a close up of the purse after all the french knots have been added. I'm especially proud of these french knots. They actually look decent! The best knotwork I think I've done in a while.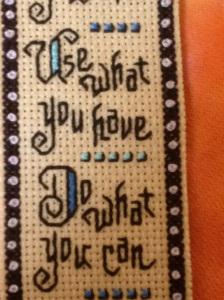 Close up of the wording after the details have been added.

The finished bookmark! I really like how it turned out and like the quote on it as well. My book of bookmark patterns is one of the best cross-stitch books I've bought and it's come in handy for so much!
Hope you all have a good beginning to your week.  I've managed to finish up the Hunger Games trilogy this weekend so I'm making progress with my "to-read" pile!  Enjoy your weeks.  This is my last week before student-teaching starts and the rest of my precious free time is sucked away, so we'll have to see what happens to all my progress after this week.  I'll be starting on the Star Trek cross-stitch soon so that's the next big project I'll be updating you all on.