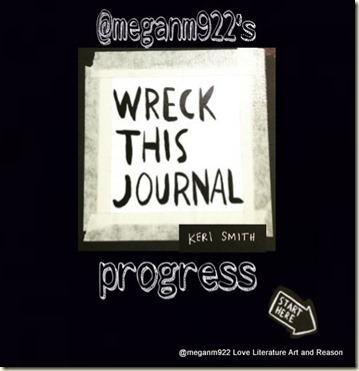 Wreck This Journal
Pages 70-71
Cover this page using only office supplies.
I had fun with this, just using random office supplies I had around the house since I love office supplies and agenda books. I actually use a weekly planner to keep track of finances. I took apart a pen for this page, as you can see. And I chopped up one of my old business cards.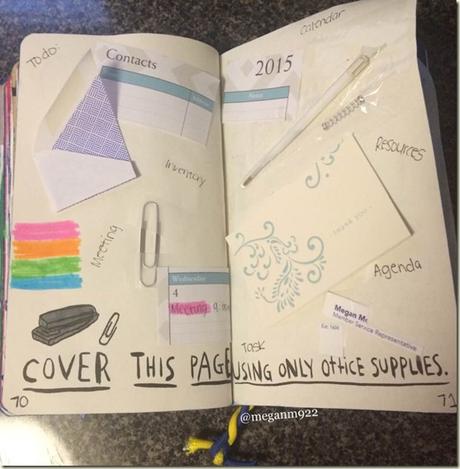 ------------------------
Pages 72-73
Bring this book in the shower with you.
"The shower is 4 walls of marbled glass and he's sliding the glass open before I have any idea what's happening. He flips the spray on full power and the sound of water is rushing through, rumbling through the room, muffling everything around us. The mirror is already fogging up on account of the steam and just as I think I'm beginning to understand his plan he pulls me into his arms and lifts me into the shower. My screams are vapor, wisps of gasps I can't grasp Hot water is puddling in my clothes. It's pelting my hair and pouring down my neck but all I feel are his hands around my waist. I want to cry out for all the wrong reasons."
"I marvel at the drop drop drops of hot water caught in his eyelashes like pearls forged from pain.."
"My movements are mechanical. I've done this so many times I've already memorized the most efficient methods of scrubbing, rinsing, and rationing soap for my body as well as my hair. There are no towels…"
 Shatter Me by Tahereh Mafi
"I shower in the dark, barely able to tell soap from conditioner, and tell myself that I will emerge new and strong, that the water will heal me." Divergent, Veronica Roth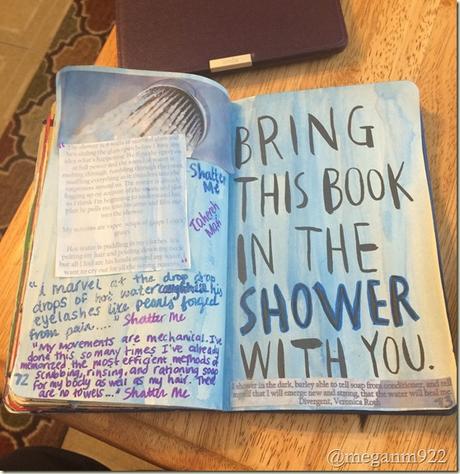 I feel like my journal is like an ode to the
Shatter Me
series. haha.