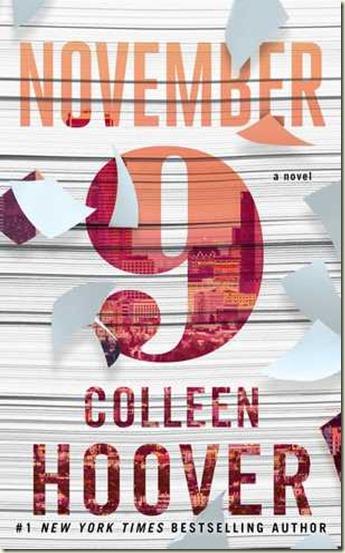 November 9

by Colleen Hoover
Summary: Beloved #1 New York Times bestselling author Colleen Hoover returns with an unforgettable love story between a writer and his unexpected muse.
Fallon meets Ben, an aspiring novelist, the day before her scheduled cross-country move. Their untimely attraction leads them to spend Fallon's last day in L.A. together, and her eventful life becomes the creative inspiration Ben has always sought for his novel. Over time and amidst the various relationships and tribulations of their own separate lives, they continue to meet on the same date every year. Until one day Fallon becomes unsure if Ben has been telling her the truth or fabricating a perfect reality for the sake of the ultimate plot twist.

Add to Goodreads
Source: I purchased a paperback from my local indie bookstore.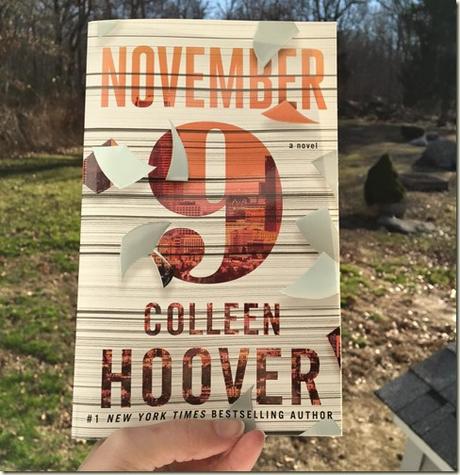 Review:

The year is almost over and the 2015 Reading Challenge from Popsugar has kept me busy. I was left with a handful of categories left to fill and one of those was Book That Made Me Cry. I hadn't cried all year over a book. My husband was gone for 2 weeks, which always makes me more emotional for whatever reason because I miss him when he's not home. I looked at me shelf and I knew that Colleen Hoover was going to fit the category and her new book would probably make me cry.
I was right. I definitely cried. I have no idea how Colleen Hoover can continue to surprise me! The book should have been so straightforward and I tried to brace myself for whatever might happen each year with Fallon and Ben, but she hit me right in the gut with some of her plot twists. I don't know how she makes the issues seem so real. I know from page 1 that I'm going to love her books and fall in love with her characters. I have no idea how she has consistently wowed me. I'm going on like book 6 or 7 of hers and I'm still ripped apart by her characters, even though I'm bracing myself and trying to anticipate every blow.
I highly recommend November 9. The plot was pretty unique and I really admired Fallon as a person. She wanted to take huge risks and she wasn't afraid to pack everything up and move to New York for a change of pace at 18 years old. Over the years, I watched her prioritize her life and I think that's exactly what her mom wanted for her when she said not to fall in love and make your life all about one person at 18. You have to learn to love yourself. I understood Fallon's mom and her point and I admired Fallon for not letting Ben change her plans, even though I disagreed with her mom's logic. (I got married quite young and I don't think it's always a recipe for disaster. You can definitely still love you and work on you and be yourself while also loving and compromising with someone else if that person really is the one and you're mature enough to know that.)
November 9 was awesome.