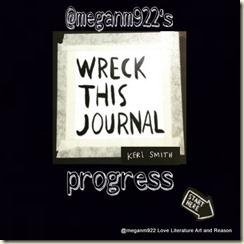 Wreck This Journal
Pages 102-103
Page of Good Thoughts
I was going to write a lot of stuff in this section, but I decided to print out some pictures that make me happy and are positive instead.
On the left:
A picture of the sky a few days after I moved to CT.
A picture of me and my husband on our wedding day. It also has a quote from Michelle Hodkin that I really like. "If I were to live a thousand years, I would belong to you for all of them. If were to live a thousand lives, I would want to make you mine in each one."
A picture of a book and a bookmark from my local indie bookstore. The quote on the bookmark is "Give a book, because no one ever talk about the tie that changed his life."
On the right:
A quote from Slammed by Colleen Hoover. "Does he treat you with respect at all times? That's the first question. The second question is, if he is the exact same person twenty years from now that he is today, would you still want to marry him? And finally, does he inspire you to want to be a better person? You find someone you can answer yes to all three, then you've found a good man." I absolutely love that quote because I think those questions are important when you decide to marry someone.
A picture of us at the White House for Fourth of July this past year. My husband got to meet the President, which was cool.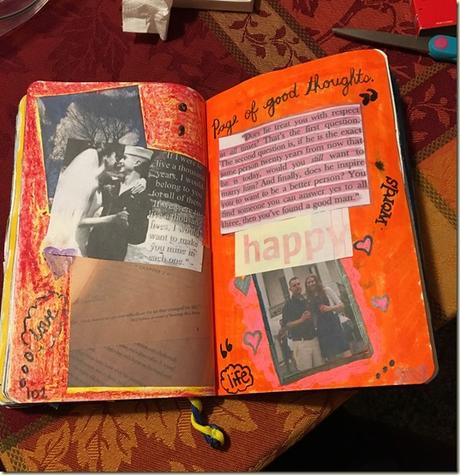 ---------------------------------------------------------
Pages 103-104
Make Prints Using an Ink Pad and Cut Vegetables.
I made my husband save the top of a green bell pepper for this.
As soon as I stamped the page, I realized the imprint looked like a flower, so I went with that theme and colored them in.
"The earth laughs in flowers." Ralph Waldo Emerson
"Flowers didn't ask to be flowers and I didn't ask to be me." Kurt Vonnegut
"A few flowers at his feet and above him the stars." Victor Hugo