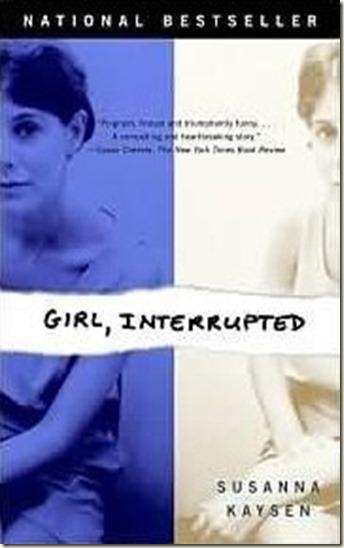 Girl, Interrupted

by Susanna Kaysen
Summary: In 1967, after a session with a psychiatrist she'd never seen before, eighteen-year-old Susanna Kaysen was put in a taxi and sent to McLean Hospital. She spent most of the next two years on the ward for teenage girls in a psychiatric hospital as renowned for its famous clientele -- Sylvia Plath, Robert Lowell, James Taylor, and Ray Charles -- as for its progressive methods of treating those who could afford its sanctuary.
Kaysen's memoir encompasses horror and razor-edged perception while providing vivid portraits of her fellow patients and their keepers. It is a brilliant evocation of a "parallel universe" set within the kaleidoscopically shifting landscape of the late sixties. Girl, Interrupted is a clear-sighted, unflinching document that gives lasting and specific dimension to our definitions of sane and insane, mental illness and recovery.
Add to Goodreads
Source: I purchased a paperback
Review:

I absolutely love the movie Girl, Interrupted and never had any idea it was based off of this memoir and slightly based off of fact. I was eager to read the memoir because I liked the movie so much and I enjoy books like The Bell Jar. I feel that a lot of what was "wrong" with women during the 60s was based off of not adhering to social norms and sexism, so I thought I would enjoy it.
Girl, Interrupted did not dig deep into anything. In fact, I feel as if the author skimmed over everything. I didn't know the characters at all besides vague quirks like how Polly was always positive and Lisa was a troublemaker. The memoir included excerpts from her own medical record, but the details regarding her case were completely glossed over. She came across as almost defensive, as if she was trying to say that she was locked up because she was wayward and young, but she didn't quite come out and say it.
I don't feel like the book explored anything at all. The movie really expanded on the themes and created more in depth characters, which I appreciated. I'm not saying that the author should have fictionalized the events, but I feel like the memoir itself is short and kind of pointless because it doesn't really say anything. It's just a random collection of events, stories, and thoughts.
I think Plath's fictionalized account of her own issues in The Bell Jar were more honest in a sense. I feel like Girl, Interrupted is a nice collection of essays that would make a good book if they were organized and expanded upon. I'm glad that it was popular enough to be successful and eventually get a movie deal, but it's certainly something I could have skipped. Perhaps I just built it up too much in my head, ready to get into something more like The Bell Jar or One Flew Over the Cuckoo's Nest.