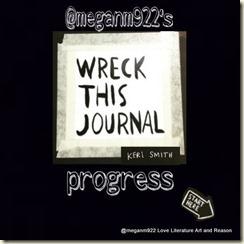 Wreck This Journal
Pages 58-59
Do a really ugly drawing. (Use ugly subject matter. Gum, poo, dead things, a badly drawn bird, mold, bard, crud).
Well, at first I was going to draw dead things like zombies. Which got me thinking about White Walkers. Which got me thinking about death and dying. Which led me to start randomly writing things and then I realized it's not really that ugly, but it's about death, so I guess it works?
A Song of Ice and Fire
by George R.R. Martin, also known as the
Game of Thrones
books =)
Valar Morghulis is ancient Valyrian used in Braavos and means All men must die. The response is Valar dohaeris, which means All men must serve. You would be serving the Many Faced God, also known as The Stranger in some religions where there are 7 gods. Also known as the Black Goat. The men who serve him are Faceless men and are assassins. One of the main characters serves him at the House of Black and White in Braavos. So this page just literally incorporates all of those words and phrases. I drew a faceless man and I poured some paint mixture that looks like blood.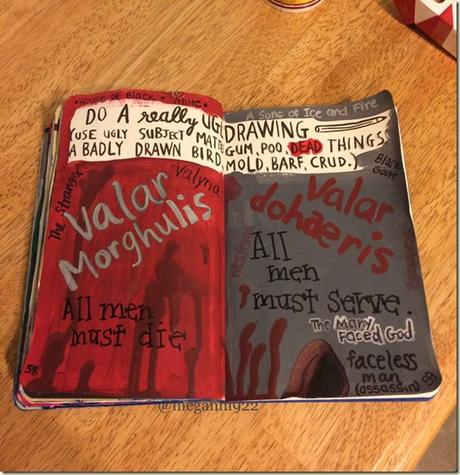 Pages 60-61
Place Sticky Things Here. (honey, gum, syrup. glue, sucker, marshmallow)
So, I'll let you all know that this page looks different now. Apparently, maple syrup doesn't dry very quickly at all. Thanks for the warning, Journal! lol
It's a bad idea to seal it with mod podge because it doesn't work, but it also smears washable marker all over the page and turns it pink. So.. the right page is now painted, the quote redone, and the pancakes that I drew so well and tried so hard to get right are gone. Things got really messy and it's been almost a week and the stuff STILL isn't dry.
"Why, sometimes I've believed as many as six impossible things before breakfast." Lewis Carroll, Alice in Wonderland
"I hate people who are not serious about meals. It's so shallow of them." Oscar Wilde
"PANCAKES. Who wants a pancake, Sweet and piping hot? Good little Grace looks up and says, 'I'll take the one on top.' Who else wants a pancake, Fresh off the griddle? Terrible Theresa smiles and says, 'I'll take the one in the middle.'" Shel Silverstein
"'When you wake up in the morning, Pooh,' said Piglet at last, 'What's the first thing you say to yourself?' 'What's for breakfast?' said Pooh. 'What do you say, Piglet?' 'I say, I wonder what's going to happen exciting today?' said Piglet. Pooh nodded thoughtfully. 'It's the same thing.' he said." A.A. Milne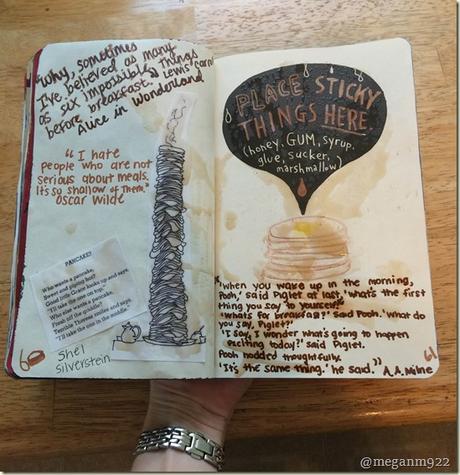 In fact, here's kind of what it looks like after I redid it and the syrup STILL didn't dry. It's awful. I don't have the patience to wait for it to dry because I want to go on to the next pages!