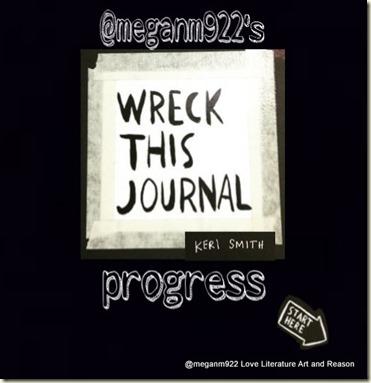 Wreck This Journal
Pages 50-51
Tie a string to the spine of this book. Swing wildly. Let it hit the walls.
I really couldn't figure out what to do with this. Where would I find string? And then I made a cup of tea and realized I had a string right in front of me.
"You can never get a cup of tea large enough or a book long enough to suit me." C.S. Lewis
And ode to the tea drinkers, since I already paid homage to the coffee drinkers at the beginning of my journal. I prefer English Breakfast Tea because I like caffeine and I drink my tea like an English person with cream and sugar. I'm not sure where I picked up that habit.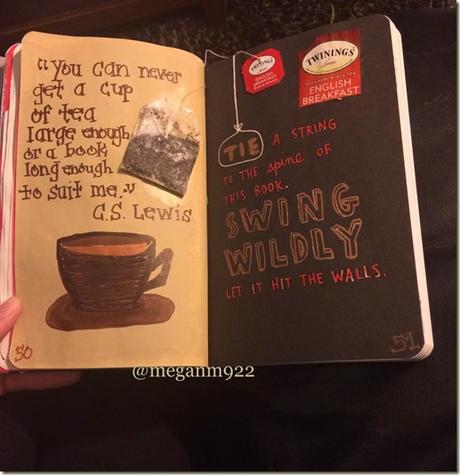 ------------
Pages 52-53
Pick up the journal without using your hands.
So this prompt was difficult. Almost everything I've seen was something from
Harry Potter
with the Leviosa spell. I wanted to something bookish and something unique. I decided to go with telekinesis over any sort of wizardry kind of magic, but I was torn between
Matilda
by Ronald Dahl or
Carrie
by Stephen King, as those two stories and characters stand out most to be as being telekinetic.
Carrie
had a lot more quotes about her ability, so I went with that.
"She did not know if her gift came from the lord of light or of darkness, and now, finally finding that she didn't care which, she was overcome with almost indescribable relief. As if a huge weight, long carried, and slipped from her shoulders.""The bureau rose into the air, trembled for a moment, and then rose until it nearly reached the ceiling.""And then the world exploded.""What none of them knew, of course, was that Carrie White was telekinetic.""'I thought I set that… back on the desk… Funny how things fall over.'""[Carrie] had been thinking: (fall off that bike kid push you off that bike and split your rotten head) and something had happened."
I'm really happy with how this page came out.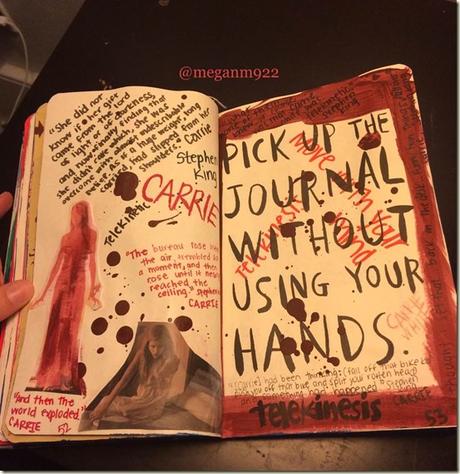 I think the Carrie page might be my new favorite.