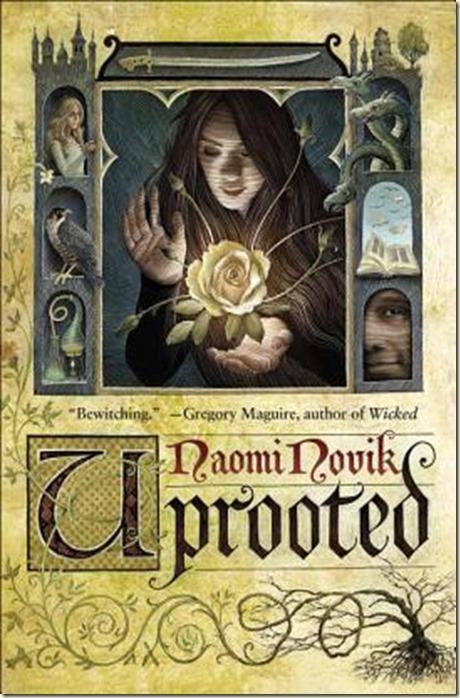 Uprooted


by Naomi Novik
Summary: "Our Dragon doesn't eat the girls he takes, no matter what stories they tell outside our valley. We hear them sometimes, from travelers passing through. They talk as though we were doing human sacrifice, and he were a real dragon. Of course that's not true: he may be a wizard and immortal, but he's still a man, and our fathers would band together and kill him if he wanted to eat one of us every ten years. He protects us against the Wood, and we're grateful, but not that grateful."
Agnieszka loves her valley home, her quiet village, the forests and the bright shining river. But the corrupted Wood stands on the border, full of malevolent power, and its shadow lies over her life.
Her people rely on the cold, driven wizard known only as the Dragon to keep its powers at bay. But he demands a terrible price for his help: one young woman handed over to serve him for ten years, a fate almost as terrible as falling to the Wood.
The next choosing is fast approaching, and Agnieszka is afraid. She knows—everyone knows—that the Dragon will take Kasia: beautiful, graceful, brave Kasia, all the things Agnieszka isn't, and her dearest friend in the world. And there is no way to save her.
But Agnieszka fears the wrong things. For when the Dragon comes, it is not Kasia he will choose.
Add to Goodreads
Source: I borrowed a Kindle copy from my library
Review:
Uprooted was absolutely fantastic! Fantasy mixed with fairy tale, it told the story of a village and the wizard who took a young girl every 10 years. The Wood surrounded the valley, often swallowing other villages whole, corrupting the people who were stuck in it for even just a moment. The Dragon prevented the corruption from spreading, as he was a great wizard. The Dragon shouldn't have taken Agnieszka because she was not the quiet, pretty, and well behaved girl that he typically looked for. But she possessed magic and had no idea.
Agnieszka's story was captivating and I was on the edge of my seat for much of the novel. It was like a grown up fairy tale without the crude romance that so many "adult" fairy tales have. Agnieszka was a character I couldn't help but love and root for, even when she didn't think and just went with her instincts, causing a ton of issues in the process. She was chaos and she clashed with the Dragon because he was used to being orderly about everything. There is some romance, but it's not the main focus of the book, which I liked.
Uprooted may be one of my favorite books I've read this year and I highly recommend it.  It was a fantasy, which I love. It had the evil entities, monsters, and enveloping darkness of an old fairy tale. It reminded me of a fairy tale, yet nothing about it was familiar or based on any folklore I'm familiar with. It was a fantasy with just the right about of chaos, adventure, magic, and romance. It wasn't too romantic, too young adult, too simple, or too wordy and complicated. It perfectly balanced all the right elements and ended up giving me the ultimate experience.
The cover makes it look like an old fantasy novel or a new middle grade/young adult novel, but it was none of these things. I'm not sure how it stayed under the radar, but this book is a MUST READ if anything about fairy tales or fantasy appeals to you. And best of all, it's a standalone novel, which is rare and amazing. I got the entire story arc without feeling like it was too short. Uprooted is a wonderful fairy tale folklore horror fantasy and coming of age story. I cannot gush about it enough.