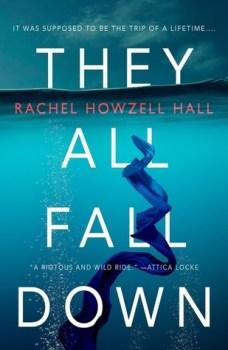 They All Fall Down by Rachel Howzell Hall
Published by Forge on April 9, 2019
Pages: 320
Format: ARC, Paperback
Goodreads
Buy on Amazon



It was supposed to be the trip of a lifetime.

Delighted by a surprise invitation, Miriam Macy sails off to a luxurious private island off the coast of Mexico, with six strangers—an ex-cop, a chef, a financial advisor, a nurse, a lawyer, a young widow.

Surrounded by miles of open water in the gloriously green Sea of Cortez, Miriam is shocked to discover that she and the rest of her companions have been brought to the remote island under false pretenses—and all seven strangers harbor a secret.

Danger lurks in the lush forest and in the halls and bedrooms of the lonely mansion. Sporadic cell-phone coverage and miles of ocean keeps the group trapped in paradise. And strange accidents keep them suspicious of each other, as one by one . . .

They all fall down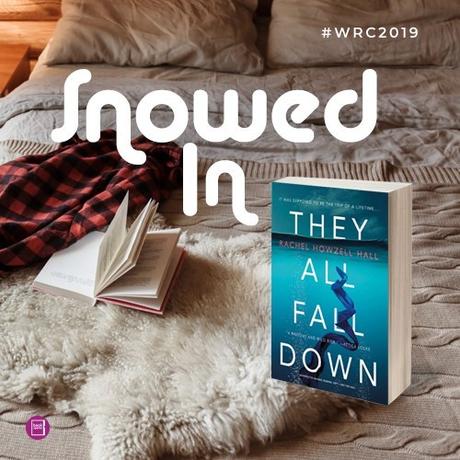 ….and today is the last book in the 2019 Booksparks Winter Reading Challenge.  I'm a bit sad it's over, but I know they are already starting the spring reading challenge so I know this challenge must come to an end…….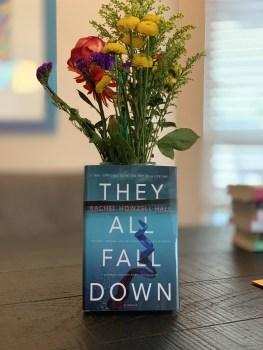 They All Fall Down by Rachel Howzell Hall is about seven strangers brought together on a tropical island under false pretenses, each harboring a secret…… what's not to love in that plot?
Miriam's life is a wreck – her husband has a new girlfriend, her daughter isn't speaking to her, but the police would like to. She receives an invitation participate in a reality show being done on a tropical island and she grabs the moment hoping her luck is improving.  They warn her there will be no cell phones, internet or phone services of any kind and Miriam is certain she can win this competition. When Miriam arrives she realizes that everyone was called there to the island under false pretenses. 
Several of the guests begin to die as a result of strange accidents — are they really accidents?  The remaining guests start to get scared and suspicious of each other.  Keep in mind these guests are all stranded on this island without a boat, without cell phones, internet or any phone service and the game shifts to a life or death situation.
The plot of They All Fall Down is a guessing game with the big question being who is the killer, and who is dying next.  I loved how the main character was known to lie, had anxiety and doubted whatever she saw.  This book was definitely was a modern remake of Agatha Christie's crime novel, And Then There Were None.  They All Fall Down is a twisty thriller that was fun and entertaining too. 
---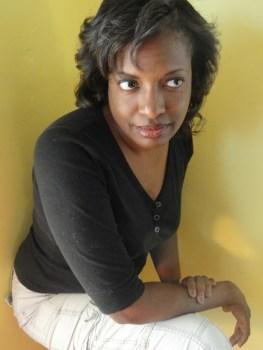 In 2002, her debut novel, A QUIET STORM, was published by Scribner to great notice, including reviews from O Magazine and Publishers Weekly, with a starred review from Library Journal and also chosen as a "Rory's Book Club" selection, the must-read book list for fictional television character Rory Gilmore of The Gilmore Girls. She also published two e-novels: THE VIEW FROM HERE and NO ONE KNOWS YOU'RE HERE.
In 2014, the first novel in the Detective Elouise Norton series was published, the critically acclaimed LAND OF SHADOWS, which received a starred review in Publishers Weekly and included on LA Times' '143 Books to Read This Summer' and the UK Telegraph's 'Top Ten Crime Books for Summer.' In 2015, she followed up with the second in the series, SKIES OF ASH. New York Times called Lou Norton "someone you want on your side." Rachel was also a featured writer on NPR Crime in the City. Currently, she serves on the Board of Directors for the Mystery Writers of America, and has participated as a mentor in the Association of Writers & Writing Programs' Writer-to-Writer program.
Rachel lives with her husband and daughter in Los Angeles, the land of exceptional drought – despite the recent El Nino effect.  Connect with Rachel on social media ~~
WEBSITE  //  FACEBOOK  /  TWITTER  //  INSTAGRAM  //  GOODREADS
---
I have received a complimentary copy of this book as part of the BookSparks Winter Reading Challenge 2019 (WRC#2019) in exchange for this post.  A positive review was not required.


~ ~ ~ ~ ~ ~ ~ ~ ~ ~ ~ ~ ~ ~ ~ ~ ~ ~

It would be great if you would stay connected with me!! You can follow me on Twitter @DebiL1611, like me on Facebook at 2014 and Beyond, circle me on Google+, follow me on Tumblr, Instagram and Bloglovin', subscribe on YouTube, or connect with me on LinkedIn and Pinterest.

Please make sure to visit my homepage and subscribe to my blog for more great posts on running, fitness and lifestyle topics as well as food, product, music and book reviews, and more!