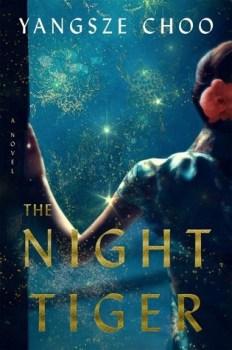 The Night Tiger by Yangsze Choo
Published by Flatiron Books on February 12, 2019
Genres: Literature & Fiction
Pages: 384
Format: ARC, Hardcover
Goodreads
Buy on Amazon



A sweeping historical novel about a dancehall girl and an orphan boy whose fates entangle over an old Chinese superstition about men who turn into tigers.

When 11-year-old Ren's master dies, he makes one last request of his Chinese houseboy: that Ren find his severed finger, lost years ago in an accident, and reunite it with his body. Ren has 49 days, or else his master's soul will roam the earth, unable to rest in peace.

Ji Lin always wanted to be a doctor, but as a girl in 1930s Malaysia, apprentice dressmaker is a more suitable occupation. Secretly, though, Ji Lin also moonlights as a dancehall girl to help pay off her beloved mother's Mahjong debts. One night, Ji Lin's dance partner leaves her with a gruesome souvenir: a severed finger. Convinced the finger is bad luck, Ji Lin enlists the help of her erstwhile stepbrother to return it to its rightful owner.

As the 49 days tick down, and a prowling tiger wreaks havoc on the town, Ji Lin and Ren's lives intertwine in ways they could never have imagined. Propulsive and lushly written, The Night Tiger explores colonialism and independence, ancient superstition and modern ambition, sibling rivalry and first love. Braided through with Chinese folklore and a tantalizing mystery, this novel is a page-turner of the highest order.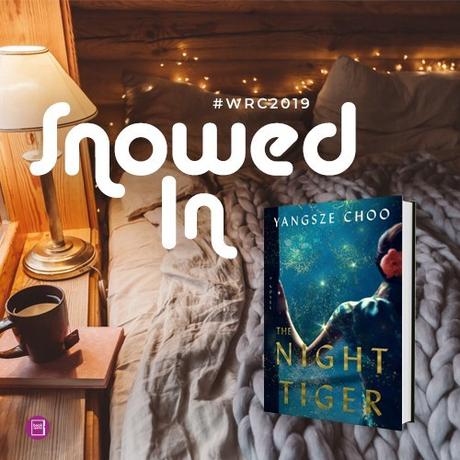 I was super excited to find out that I had been selected to be included in the BookSparks' Winter Reading Challenge 2019 (#WRC2019)!  Today's post is about the third book of the challenge  – The Night Tiger by Yangsze Choo. I had never heard of this author and looked her up – looks like her first book, The Ghost Book, is being (or has already been) made into a Netflix Chinese drama series and the book itself won all kinds of awards.  That in itself totally impressed me and I was looking forward to reading her second book, The Night Tiger.
When I read the synopsis of this book, I won't lie – I thought to myself "how the heck can someone write a whole plot for a book centered around a severed finger? How can this author pull this off?" The idea was intriguing to me, and admittedly, I had never read a book in this type of genre, but I couldn't wait to read it anyway.
The plot truly does center around a severed finger – it's Ren's master's finger, actually. Because folklore required that a body was to be entirely whole within 49 days from their death.  If this did not occur, the decedent's soul would roam and never be able to find peace. His master asked Ren to take on the mission of finding his missing finger, and reunite it with his master's body in the required time period.  Meanwhile, though, this severed finger exchanges hands a few times and has a journey of its own.
Readers also meet Ji Lin, who is a very clever girl who loves academics and secretly desires to study medicine, but her family forbids it because she's a girl.  Instead, Ji Lin is forced to apprentice at a dress shop and earning extra money as a "dance instructor" at a dance hall, the May Flower.  She hopes she can make enough money to help cover her mother's secret gambling debts and save enough to pursue a career in medicine.
There's so much more to this plot, I can't even begin to get into everything taking place.  Just know that The Night Tiger is very beautifully written, and it takes on the challenge of blending mystery and romance together with rich historical detail and the supernatural all together in one story.  I honestly had a difficult time putting this book down. I felt that the pace was superb and the plot was all-absorbing. Ms. Choo provides readers with intriguing characters and provides such great descriptive details throughout that I felt like I was making this journey and in the moment. The story was fun and also sometimes complicated at the same time, and it leads up to an exciting and surprising ending. I will admit that it had me guessing all the way through, thanks to the multiple mysteries to solve along the way.
---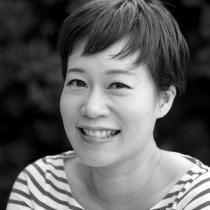 Yangsze Choo is a fourth generation Malaysian of Chinese descent. Due to a childhood spent in various countries, she can eavesdrop (badly) in several languages.
After graduating from Harvard, she worked as a management consultant before writing her first novel. Yangsze eats and reads too much, and often does both at the same time.
You can follow Ms. Choo on social media ~~
---
I have received a complimentary copy of this book as part of the BookSparks Winter Reading Challenge 2019 (WRC#2019) in exchange for this post.  A positive review was not required.


~ ~ ~ ~ ~ ~ ~ ~ ~ ~ ~ ~ ~ ~ ~ ~ ~ ~

It would be great if you would stay connected with me!! You can follow me on Twitter @DebiL1611, like me on Facebook at 2014 and Beyond, circle me on Google+, follow me on Tumblr, Instagram and Bloglovin', subscribe on YouTube, or connect with me on LinkedIn and Pinterest.

Please make sure to visit my homepage and subscribe to my blog for more great posts on running, fitness and lifestyle topics as well as food, product, music and book reviews, and more!