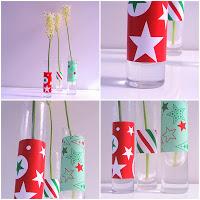 It's no secret that there's plenty of wrapping paper floating around the house at Christmas time.  Here's one thing you can do with those left over strips: wrap a vase.
Here's how:
Grab a series of straight-edged vases,

Use strips of wrapping paper (or you can use strips of Partycraft printpaper as I did!)

Use temporary-tac or double sided tape to stick it in place.

Carefully add water and a flower to each vase!
Note: you can wrap a vase with sloping or splayed edges, but the paper will wrap in a shape more like a man's old fashioned neck-collar rather than a straight strip.
Top tips:
Match the paper to the flowers, or the colour-scheme of your decorations / tableware.

Experiment with placing different paper at different heights, and different widths and patterns.

Use decorative embellishments such as stickers, gems or fabric flowers to complete.

Cluster the vases for extra effect.

Consider making a vase-cuff out of fabric, using ribbons or buttons to hold it in place.
Merry almost-Christmas everyone... 
and don't forget there's plenty of other Christmas ideas to make in a hurry over at
Partycraft Secrets' website
!
Linda.