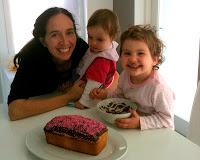 It's no secret that time flies - even still - I can't believe that my online business has been up and running for 2 years now!  Thank you to everyone who has downloaded and enjoyed our craft ebooks and printable stationary, and to all of you have regularly read my crafty blog posts and clicked on facebook links... life sure is grand.
As with all things however, life moves on, and with extra commitments to my school aged daughter, and the decision to work occasionally away from home at a 'real job' - I'm in a dilemma as to whether to keep going with the great adventure that is Partycraft Secrets.
My 3 most favorite things so far include being interviewed by a national women's magazine for my mumpreneurs self-help group and having the opportunity to inspire even more women to follow their dreams; receiving plenty of beautiful photos from crafty parents showing the wonderful things they made with their families; and best of all, playing and crafting with my own gorgeous girls who have grown up before my eyes from tiny toddlers with sticky fingers and faces, into lovely young ladies; so proud on all accounts!
While I deliberate, I've placed everything (except the custom-order package) on sale for

$1

- that's all the 45 page themed ebooks (for Christmas, Halloween and other party themes), as well as all the 15+ designs for printable stationary packages (which include templates for invitations, bunting, photocards, bag tags and more.)  There is also plenty of free downloadable crafts adn ebooks on the site as always.
To download a batch of free and almost free materials, simply go to the website to browse what's on offer and make your pick...!!
Until next time (maybe) stay crafty my dear friends and new visitors, and remember that crafting alone or with your family really is as fun as it is therapeutic.
Best wishes,
Linda.