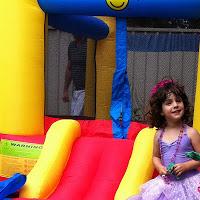 It's no secret jumping castles are fab.  They now come in such a wide variety of styles and shapes, colours and sizes - you can rent them, or even buy smaller versions to enjoy the jumpin' fun long after the party ends.
We recently went to a backyard dress-up party with a jumping castle that was purchased at a supermarket - wow... that was the stuff of dreams when I was a kid!
Whilst they may well kill the grass if left out too long, they are a brilliant addition to any party theme or scheme, and buy the parents a little time to chat, in between all the games and catering duties... oh... and I have it on good advice that parents have been known to give 'em a go post-party too!
Keep jumpin!
Linda.