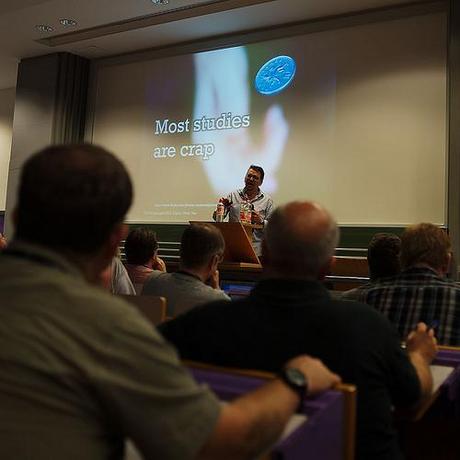 Your author speaking at a
conference in Germany
Photo by Claudio Ramirez
I've been writing this blog for years now. There is a huge amount of information here and it's getting to the point where the would-be expat is going to love the information, but find it very hard to find all of the information that's relevant to their needs. Or maybe they just wouldn't know where to start.
I've been thinking about this problem and I have an idea of how to solve it. Starting in May, I'm going freelance. I already have a nice contract lined up (and working with some awesome people), but I'll have a bit more flexibility in what I do and that gives me an opportunity.
As some of you know, I have fairly extensive public speaking experience. I'm not as gifted a public speaker as, say, President Obama, but I'm a damn sight better than some. I also have a huge amount of knowledge regarding becoming an expat. Thus, I've been thinking about hosting all-day seminars in the US, explaining to people how they can also become expats. It doesn't matter if you're rich, poor, skilled, unskilled, working or retired. Even if you have a criminal record, there are ways you can legally find new countries to move to.
Would you be willing to sit in a hotel conference room for eight hours (with breaks and lunch, of course), to learn strategy after strategy about how you could move abroad? Is it something you'd pay for? What follows is a rough outline of the seminar.
Introduction

How the seminar works
My background
Why Move Abroad?

Count von Europe

The Fantasy
The Offer
Objections

How Immigration Works

Pull factors
Push factors
Economics
The "right" to citizenship and why you can't have it

Jus Soli
Jus Sanguinis
Lex Sanguinis

"Unskilled" workers

Teaching English
Working holidays
Volunteer opportunities
Nanny/Au Pair
Studying Abroad

High-skilled workers

Shortage lists
STEM Fields
The Job Hunt

Preparing your resume/CV
Conducting the job search
Interviewing
Salary Negotiation

European Blue Cards

Buying your way in — legally

Uruguay
Panama
Spain
Latvia
Hungary

Retirement

Finances
Medical Care
Real estate
Legal issues

Surviving Abroad

Homesickness
Culture Shock
Children
Language Skills
Taxes
Making friends

Miscellaneous Issues

Marriage
Criminal history
Mean World Syndrome
Becoming an illegal alien
I've been doing a fair amount of research and the audience appears to be there. The main obstacle appears to be figuring out effective marketing (well, that and actually putting together all of the seminar material). So, would it work? And what stuff am I missing from the above rough draft (such as the rather glaring omission of "learning a foreign language")?
If you would be interested in paying for something like this, let me know where you live. Portland, Oregon would be an obvious first target for me, but who knows?