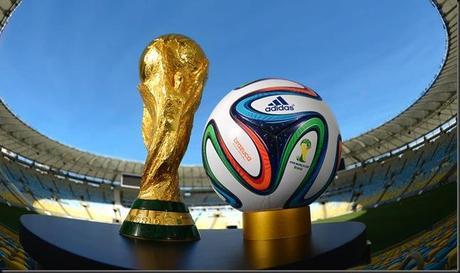 Two of the lesser nations of world football have been doing really well at the World Cup in Brazil and there were parties and celebrations on the streets of Algiers as Algeria qualified for the last 16 for the first ever time. Costa Rica defeated both Italy and Uruguay and made it through a tough group undefeated.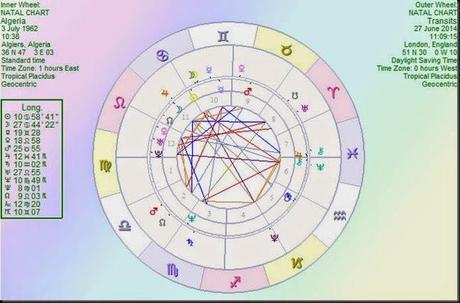 Both nations have lovely transits on their natal charts showing the joy of doing well. Algeria (natal chart by Nick Campion) has transiting Jupiter sitting now on the Algerian Moon indicating the optimism of the nation. Jupiter is square to the Nodal axis thus events abroad are bringing the happiness and it is also sextile to sporting Mars indicating the hopes of the nation are with their football team. Transiting Mars is making a nice trine to Mercury, the Algerian chart and Midheaven ruler, so a very active and positive mood will be filling the country and the press alike. Pluto is opposing the Algerian Sun, but also making encouraging trines to Jupiter and Neptune as well as being on the cusp of the 5th house of sports and games, possibly bringing a transforming effect to the reputation of their team and the way they will be regarded in the future.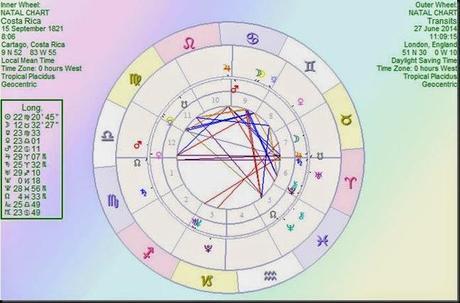 Costa Rica (chart from moment of independence – Astrotheme) have transiting Jupiter making a conjunction to their Midheaven so again we have a lovely optimistic feeling across the country. The Midheaven is conjunct to Mars in the 9th house on this chart therefore the feel good factor and success that Jupiter brings will extend to it's football team abroad as well. Not only this but Costa Rica is also experiencing the transiting North Node, a lucky influence conjunct to the Ascendant. This always brings the recipient into the public eye much more, and Costa Rica have been very much one of the stories of the competition in winning a group with far stronger opponents in it, including sadly for myself, England. Transiting Pluto is making an empowering trine to the Costa Rican Moon, thus the feeling of the population will be one of strength, control and power, which is pretty accurate for the way that they qualified.