Audrey Hepburn is known around the world as the ideal classy woman, and is quoted and idolized by women everywhere. But this wonderful lady is deserving of woman of the week not due to her classy image and acting skills, but because of her humanitarian work.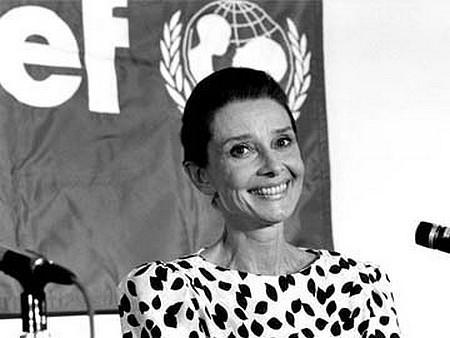 Hepburn grew up in Arnhem, Germany during the Nazi occupation and lived through many horrors that influenced her humanitarian work later in life. Her uncle was executed for being caught in a resistance movement, and one of her half-brothers was sent to a labor camp in Berlin. Hepburn herself faced starvation, noting later in life that when help finally came she got sick from putting too much sugar in her oatmeal and eating an entire can of condensed milk in one sitting. She wanted to be a professional ballet dancer, but was told that her height and malnutrition from her childhood would likely prevent her from ever becoming a top tier dancer, so Hepburn decided to try acting. She moved to Britain and eventually the United States as she gained more recognition in the movie industry. She went on to star in movies such as Roman Holiday, Sabrina, War and Peace, and of course Breakfast at Tiffany's.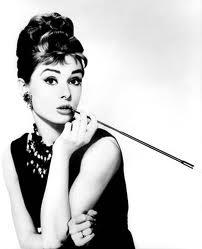 The image everybody has come to know and love.
   Audrey Hepburn started working with UNICEF, the United Nations Children's Fund, in 1954, but it wasn't until she took a serious break from acting in 1988 that she dedicated her entire life to it. Named Goodwill Ambassador from the United States, over the course of two years she traveled to countries all around the world, getting involved in various projects such as "visiting a polio vaccine project in Turkey, training programmes for women in Venezuela, projects for children living and working on the street in Ecuador, projects to provide drinking water in Guatemala and Honduras and radio literacy projects in El Salvador. She saw schools in Bangladesh, projects for impoverished children in Thailand, nutrition projects in Viet Nam and camps for displaced children in Sudan".
Even when Hepburn was not abroad, she was giving up to 15 interviews a day to different media outlets in the United States and Canada and testifying before Congress, pushing to create true change through UNICEF's work.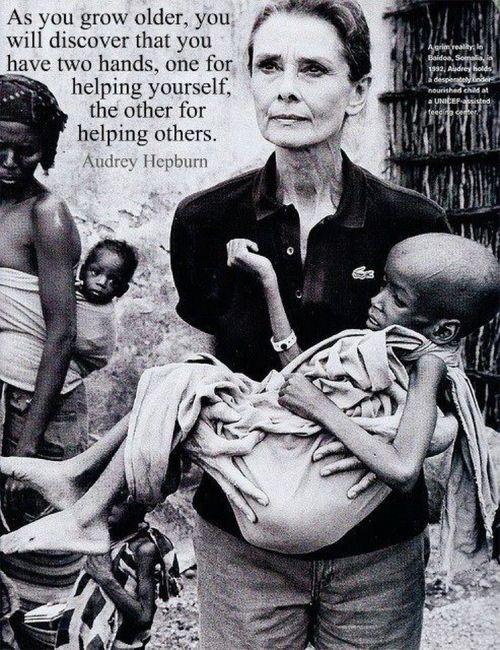 While Hepburn's advice about relationships, happiness, and love are still found all over pinterest today and are used to help women overcome their own personal struggles, that's not why I wanted her to be woman of the week. I didn't even want her to be woman of the week because she demonstrates what it means to be classy, kind, and thoughtful. What I admire Audrey Hepburn for most is not her role in Breakfast at Tiffany's or her iconic little black dress, but her endless effort to give back to a world she gained so much from. She once said in an interview "The 'Third World' is a term I don't like very much, because we're all one world. I want people to know that the largest part of humanity is suffering". She was aware of her fortune and status, and took full advantage of it to help other people. Because of her tireless work for UNICEF, and her advocacy for children around the world, Audrey Hepburn is this week's woman of the week.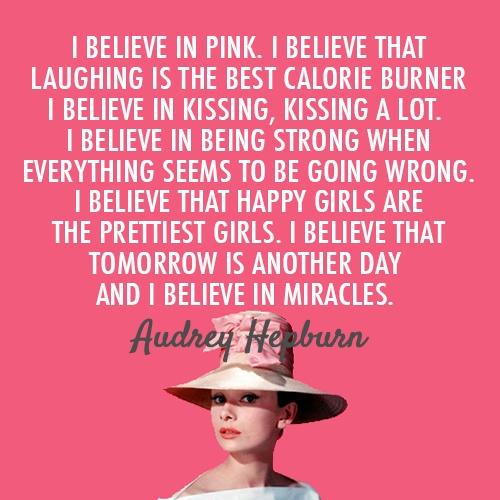 http://en.wikipedia.org/wiki/Audrey_Hepburn