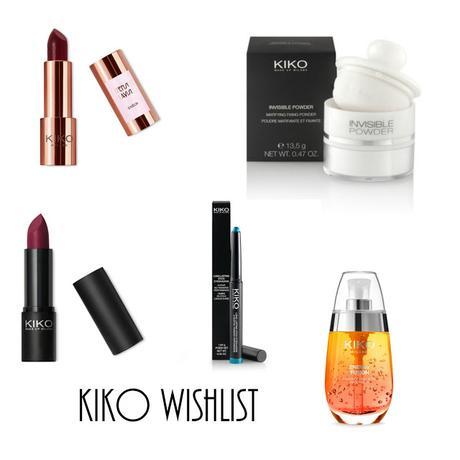 Kiko is quickly becoming one of my favorite high street brands and lucky for me a few months back they opened a store in Brighton so I can easily get my fix! With a mix
 of cheaper products and some more on the expensive side I feel there is something for everyones budget. I have bought a few bits from there already so thought I would let you know what other bits I'm looking forward to picking up in the future.
Rebel Romantic Intensely Lavish Lipstick £6.90
I picked up this lipstick in the shade 02 Pretty Mauve a couple of weeks ago and instantly fell in love. Not only is the rose gold packaging to die for but the lipstick itself has amazing pigmentation and is so hydrating it leaves your lips feeling super soft. The packaging is heavier than your normal lipstick so gives it a luxurious feel. With the rest of the collection offering perfect shades for Autumn I will be buying more.
Invisible Anti-Shine Setting Powder £11.90
As a girl with combination oily skin I'm always on the look out for a good powder to set my makeup with. Currently I use MAC Studio Fix Powder which is actually a powder foundation (I love full coverage by the way) but as this is half the price, I'm willing to give it a go to see how it fairs.
Smart Lipstick £3.90
I have a lipstick problem! I probably own 10 of near enough the same shade but I can't help but to buy new lipsticks. So when I came across Kikos Smart Lipsticks I grabbed a shade which looked fairly like velvet teddy (because I'm still in my Kylie Jenner phase) and thought I'd give it a go. Well now I need to go back and buy every other shade they produce because for £3.90 you are getting in my opinion Mac quality lipsticks.

Long Lasting Stick Eyeshadow £6.90

I already own 2 shades of their Stick Eyeshadows and they are perfect for when I'm up early for work and just want something simply to sweep over the whole lid! With 32 shades available I definitely will be picking a few more to add to my collection.

Energy Fusion Serum £15.90

I first tried their Crystal Fusion Serum a few months back when it was released as part of a collection and enjoyed using it until it was no longer available. So when I found out they were re-releasing it but with two new additions I had to check them out. I think I want to try out the Energy Fusion version next which is a illuminating serum so I will keep you updated when I purchase it.

Have you Kiko before? What are your favorite products?




Instagram

 / 

Twitter

 / 

Bloglovin' / Pinterest