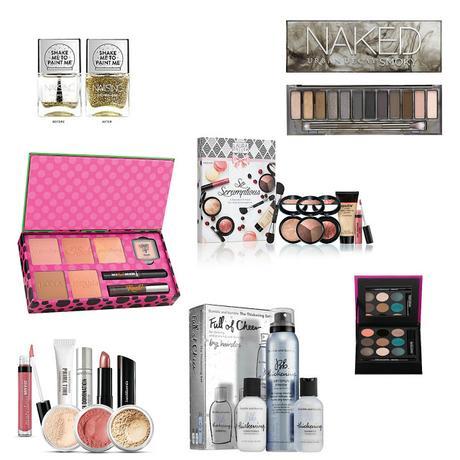 It's that time of year again where we all peruse websites like Boots and Debenhams to see what our favorite beauty brands are offering for Christmas. So I thought I would share with you a few I have found which I would love to receive (or buy myself) for Christmas.
Nails Inc Snow Globe Christmas Gift Set - £15.00
I love a good glitter polish round Christmas time so when I came across this Nails Inc one I instantly fell in love. And what's great about it is because you have to shake it up to activate it you can control how glittery you want the polish.
Urban Decay Smoky Palette - £38.00
As an avid fan of the Urban Decay palettes and already owning the Naked and Naked 2 I am always looking to add to my collection. The Smoky Palette is the latest member of the Naked family and I definitely need to have it.
Laura Geller So Scrumptious Gift Set - £45.00
I don't own any Laura Geller makeup but I have heard great things about it. This set is available in two different shades, Light & Medium and contains 5 products and a duel ended brush. This seems like the perfect kit to try out some of her products.
Benefit Real Cheeky Party Set - £29.50
I already love Benefit Box Blushers so to have a set with not only 4 blushers but a bronzer, highlighter, eyeliner and mascara is a definite winner for me. I was gutted that I missed out on last years blusher set so I think I might treat myself to this years one.
BareMinerals Fabled Favourites Set - $24.00
This one is a little bit of a slip up, as I found these products a few days before writing this post I'm not sure where I first saw it but now can only find it on the Ulta website. But fear not BareMinerals have a lot of fantastic sets available for us brits over on the Debenhams site here.
Bumble and Bumble Full Of Cheer Thickening Hair Care Set - £22.00
Having only tried the Bumble and Bumble Surf Spray and not getting on with it, I would like to try some other products out and thicker hair is something I'm always looking to achieve. I've read some great reviews on the Dry Spun Finishing spray so this is the perfect gift to try it out.
Make Up For Ever Artist Eye Studio - £40.00
Again another brand I have yet to try and I've heard a lot through Youtube that their eyeshadows are meant to be amazing quality. Plus the mix of colours in the palette look so pretty and outside my comfort zone which is what I need to start doing.
What are some of your favorite beauty gift sets this year?
Instagram
 / 
Twitter
 / 
Bloglovin'
/ Pinterest