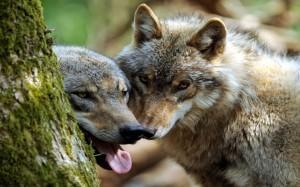 The range of the Gray wolf used to extend across almost the entire northern hemisphere, today they inhabit less than 5 percent of their original territory. Ingo Wagner/AFP
On Tuesday, Wisconsin began allowing the hunting and killing of wolves that had, until 2011, been protected by the Endangered Species Act. But scientists say the change is premature and could lead to the devastation of the gray wolf population in the state.
The state's kill-limit was set at 251 wolves by the Department of Natural Resources (DNR) — meaning about one-third of Wisconsin's wolf population could be killed legally. The hunt will last until February or until the limit has been reached.
According to the DNR's website, no one had reported killing a wolf as of late Tuesday morning.
The gray wolf was removed from the endangered species list in 2011 following a decades-long federal government campaign to repopulate the animals after they were nearly wiped out in the early 20th century. Legal hunting seasons began in some states the next year, prompting an outcry from scientists who said the wolves' population was not yet at a viable level.
Click here to view the Earth First! Wolf Hunt Sabotage Manual.