by Taylor Hill / TakePart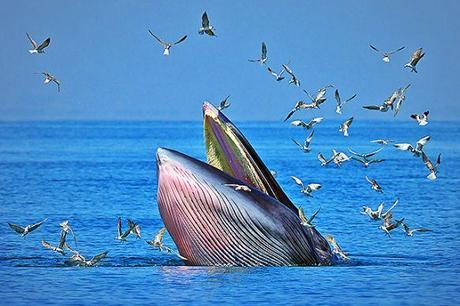 A genetically distinct group of whales—possibly an entirely new species—has been discovered off the coast of Florida's Panhandle region.
That's the good news. The bad news is, they could be the most endangered whales in the world.
Scientists discovered the genetically unique set of about 50 whales during recent research in the Gulf of Mexico. The whales, which are members of the Bryde's (pronounced "broodus") family, live year-round in the Gulf. They reside in an underwater canyon near Florida's west coast, an area highly susceptible to offshore oil spills.
The Natural Resources Defense Council has petitioned the U.S. government list the whales as endangered, citing their tiny population and vulnerability.
"Clearly the whales are in need of special protection, and not simply for their small numbers," wrote NRDC policy analyst Michael Jasny in a blog post. "The massive industrialization of the northern Gulf threatens them six ways to Sunday."
The whales' home, DeSoto Canyon, is adjacent to the canyon where the 2010 Deepwater Horizon oil spill occurred. The whales don't migrate from the Gulf, and have more in common genetically with Pacific Bryde's whales than with their Atlantic cousin, according to the study.
"New oil and gas leases are slated for the eastern Gulf, encroaching further on their habitat and adding to the risk of future spills," wrote Jasny. "With so few remaining, the loss of even one Bryde's whale puts the entire population in jeopardy."
There are only two recognized Bryde's whale subspecies. But the study's lead author, Patricia Rosel of the University of Louisiana, found that the Gulf group was at least as different as those subspecies are from each other. The study suggests they may even be a different species.
"The level of divergence suggests a unique evolutionary trajectory worthy of its own taxonomic standing," according to the study.
Bryde's whales are baleen whales, meaning they feed through long, plate-like filters that hang from their upper jaws. Adults are typically about 35 feet to 50 feet long.
If the whales aren't protected, the population could quietly disappear, Jasny told Mother Nature Network. "It's hard to imagine how this population—or possibly this species—would survive without protection," he said.
Good thing the whales can hold their breath—it can take years for the government to act on a listing petition as it works its way through a huge backlog of other endangered animals and plants.