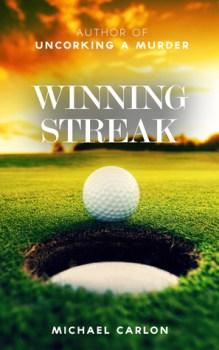 Winning Streak by Michael Carlon
Published by Uncorking a Story on November 25, 2016
Pages: 313
Format: Paperback
Goodreads
Buy on Amazon



At twenty-nine, Patrick "Trick" Evans has just accomplished what no golfer since 1930 has been able to do, win all four of golf's major championships in the same calendar year. There's no doubt that he's the sporting world's newest superstar but he walks away from it all after the sudden death of his father and retreats to his secluded home in Chatham, Massachusetts.

Casper Quinlan is helping her father reinvent his magazine, Fore!, to have a place in the digital age. As part of her new job, she accepts the challenge to land an interview with the reclusive Trick Evans. While she has recovered physically from the car accident that took her leg fifteen years prior, she's been unable to sustain a long term romantic relationship and finds it impossible to believe anyone will truly love her because of her handicap.

Robert McMullen has not been to Chatham since his teenage daughter's death three decades ago. Recently widowed, he returns to Chatham to grant his wife's dying wish, to be buried with a necklace that their late daughter gave her for Mother's Day over four decades ago. Along the way he comes to realize that his late wife may have had ulterior motives for sending him back to the town where their daughter died.

Winning Streak is the story of how these three lives intersect and how each comes to learn critical lessons in order to heal from the pain of loss in their lives. Readers will be taken on an emotional journey full of laughter and tears while enjoying this novel which is reminiscent of Nicholas Sparks and Mitch Albom.
The book that is the subject of this post is Winning Streak by Michael Carlon.  When I was contacted regarding this book, while I hadn't heard of the author before, when I read the synopsis of the story, it seemed to be an interesting and different kind of read for me so I accepted.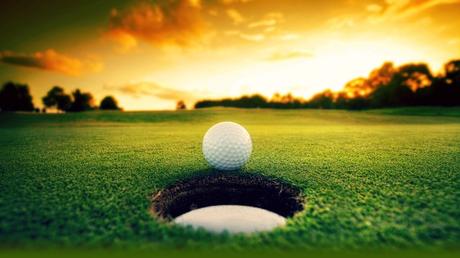 Pro golfer, Patrick Evans is 29 and he's been able to win all four of golf's major championships in the same year – a feat that hasn't been achieved since 1930 by any other golfer.  Hence, the nickname "Trick".  He's at the height of his pro golfer career when his father dies suddenly. While he's the current superstar of golf, he walks away and retreats to his very private and secluded home in Chatham, Massachusetts.
Next is Casper Quinlan who started working with her father at his magazine, Fore!, to help bring it up into the 21st Century. Casper was involved in a car accident in her hometown nearly fifteen years ago that took her leg.  While she's physically recovered from her injuries, but she's always been unable to maintain any kind of long term relationship because she thinks no one can ever really love her without a leg. Casper accepts the challenge of interviewing Trick Evans for her dad's magazine.
…..And then there's Robert McMullen.  He is recently widowed and hasn't been back in Chatham for over 30 years after the death of his teenage daughter.  He's back because of a promise he made his dying wife, but it may turn out he's there for a bigger purpose. 
Winning Streak is a nice read, with well written characters sharing the story of how these three folks' lives intersect with the other and how each of them learns critical life lessons necessary for them to heal from the pain of the respective losses in their lives. The story provides readers insight on how to move on after a setback, how to forgive and how to start living again all using the setting of golf writing.
---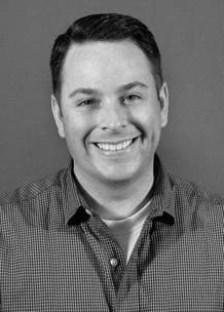 Michael Carlon is the host of the Uncorking a Story podcast (http://michaelcarlonauthor.com/podcast/) which features depth interviews with fellow authors as well as everyday people making an extraordinary difference in the world today. In addition, he is the author of Return to Casa Grande, Uncorking a Murder, Winning Streak, The Last Homily, All the F*cks I Cannot Give, and Motel California.
When he is not writing a novel, a magazine article, or a piece for his local newspaper, Mike earns his living as a marketing consultant traveling around the world interviewing people about their experiences with and attitudes towards his clients' products and services. He is an expert at understanding what makes people tick and translating those insights into intelligence his clients can use to make better decisions.
Mike lives in Stamford, CT with his wife Nicole and their teenage triplets Grace, Patrick, and Maggie. He holds a BA in Psychology from the University of Connecticut and an MBA with a concentration in marketing from Fairfield University.  
Learn more about Mike at http://www.michaelcarlonauthor.com
---
I was provided with a complimentary paperback copy of this book from Strategies PR in exchange for my review.  I was not required to post a positive review and the book was provided for review consideration only, with no strings attached.

~ ~ ~ ~ ~ ~ ~ ~ ~ ~ ~ ~ ~ ~ ~ ~ ~ ~

It would be great if you would stay connected with me!! You can follow me on Twitter @DebiL1611, like me on Facebook at 2014 and Beyond, circle me on Google+, follow me on Tumblr, Instagram and Bloglovin', subscribe on YouTube, or connect with me on LinkedIn and Pinterest.

Please make sure to visit my homepage and subscribe to my blog for more great posts on running, fitness and lifestyle topics as well as food, product, music and book reviews, and more!