So earlier this week we were given a brief at university. We were asked to produce a visual retail space; for example a shop window; on the psychology behind an abstract artist. 
And it was on those grounds, I was introduced to the world of William Kandinsky. A man who's heart followed colour psychology. He believed that colour expressed emotion, but certain colours should be placed in specific orders. As a teacher at the Bauhaus, fundamentally he believe that the colours red, yellow and blue were most important. He declared that the purpose of red was to marry the world of blue and yellow together, thus it should always be placed in the middle of the two. Yellow, offered brightness, whilst blue provides a coolness to art and emotions. However, he felt that yellow should always be placed before blue, as yellow always stood out more. He takes this colour psychology further to describe the angels that colours should be drawn at.
90 degrees and below (Acute angles): Yellow and Orange
90 degrees (Right angles) : Red
90 degrees and above (Obtuse angles): Blue and violet.
On a deeper level, Kandinsky believed colour translated into music. He also found stimulation and nostalgia in colour, as it reminded him of childhood.
On the basis of this information, myself and four other students had to visually portray this concept with very little money. Here is the end result: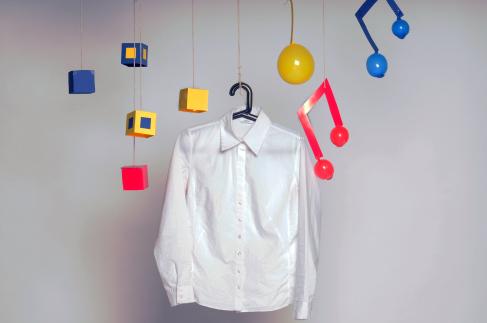 The balloons, were to translate childhood and we decided to stick to the primary colours as they represented the Bauhaus movement. I think there's a lot of room for improvement, however I enjoyed the task and working in the studio.
Now, the concluding question is, is fashion art? Fashion is inspired by art, works in collaboration with art, so surely it must be art? However there are some who will argue that fashion is not art. Karl Lagerfeld and Miuccia Prada for example believe this, whereas designers such as McQueen and Rodarte offer the contrasting view.
As for myself, I enjoy art, the concepts behind it, but I believe fashion should be a discipline within it's own right, such as photography and film. Although, they are forms of art, I think it's unfair to suggest art is the most dominate form.