Pop Art has entered the art world again with turbulence in 2013. With the Tate's Lichtenstein: A Retrospective on display until the end of May, and Andy Warhol being shown at THE MAC in Belfast, the art movement has fixated itself firmly on the cultural calender.This fixation has not gone unnoticed in the realm of fashion.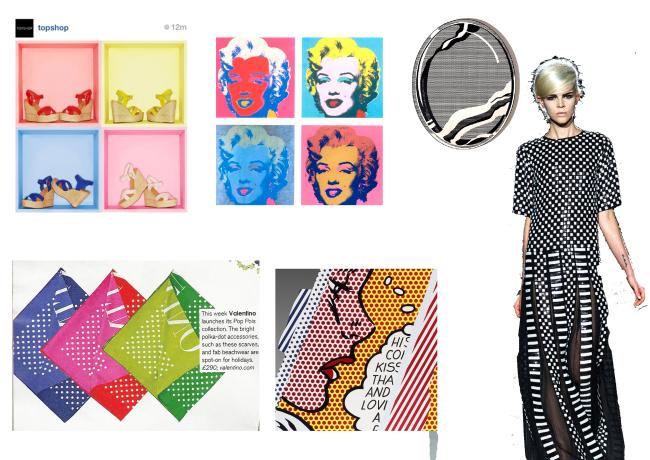 I was scrolling through my instagram and I found myself pausing. I was looking at a image showing the latest wedges from Topshop (top left). My pause did not endure a deliberation of whether I liked, or wanted the shoes. No. I was imagining the moodboard of creative team that put that image together. I am positive that Andy Warhol would have taken residence within their inspirations.
However, Topshop is not the only brand to be borrowing stimulation from the pop art world. I was reading the Sunday supplements and discovered some scarves presented on a page by Valentino (bottom left). Again, my mind turned to the work of Roy Lichtenstein. Marc Jacob's (top right) too, appeared to be celebrating the artist's work.
The nature of this post was to demonstrate how fashion borrows from the world of art. I believe the exhibition at the Tate is on display until the 26th May. So just like Marc Jacobs, Topshop and Valentino, you too can be inspired by the world of Pop Art if you get the opportunity to attend.