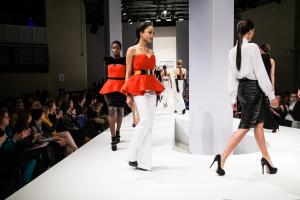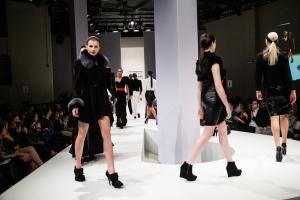 The lights dimmed and the audience were embraced by a soft birds tweeting. Arguably this was simultaneous with the Fabryan guests eagerly awaiting the show, one eye on the catwalk, the other glued to social media platforms. An elegant outstretched leg appeared at the opening of the runway. Seductive. Dangerous. Dressed to kill. Boom – and the upbeat soundtrack of Lana Del Rey's Summertime Sadness challenged the soft sounds that momentarily existed on the vacant catwalk.
Female strength and a strong collection were arguably the first impressions of the show. Fabryan's La Femme Fatale is for women who do not wait, nor do they mess around. The designer, Samantha-Jane has maintained her dedication to black and white, staying true to the brand's codes of sophistication. Yet, she also embraced the daring nature of a Fabryan women by courageously working with burnt orange.
With some designs offering a peplum style, Fabryan remains to be inspired by the glamour of the 1950's and the beauty of the female body. With 2014 offering a new wave of feminism, a collection based on powerful women is incredibly relevant and inspiring.
This collection is about taking risks and being successful. It is a celebration of women who work hard and play harder. Arguably, this was Fabryan's strongest and most coherent collection to date. It was a great start to the year and Fabryan is not be slowing down anytime soon.