Classes have started and I'm fully in the swing of things (in fact, I'm in class right now). Our first assignment was due and I submitted just in the nick of time. Nothing like a little extra pressure to ignite the inspiration fire! I chose Marc Jacobs' Louis Vuitton Spring 2012 Ready to Wear Collection. As my previous post on MJ can attest, I like his point of view. I like that he takes risks and pushes the envelope just a bit. When I reviewed each of the pieces that he created for the spring collection, I guess you could say I was salivating from the minute the carousel of models appeared. If I were the editor assigned to review the collection, here is my review for the New York Times, Style section.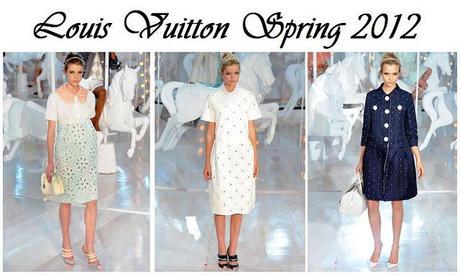 If Marc Jacobs' personal attire is the guide to his state of mind, then his Louis Vuitton 2012 Spring Ready to Wear collection can be summed up as ethereal, elegant and entrancing. Appearing in a slim fitting white dress shirt and crisp white pants to take his bow, Marc Jacobs signaled a pure, achromic direction and a sharp contrast to the previous collection that made rubber boots and S&M tres chic. In this collection, Marc Jacobs refreshed the traditional elegance of Louis Vuitton with sheer fabrics, hand beaded flower appliqués and eyelet details.
The models walked the runway with slick back hair adorned with silver headbands and small crowns. Their dewy yet nude make up added more emphasis to the angelic feel of the show. Handbags in pastel candy colors appeared as extensions, as opposed to distractions. Complimenting their unearthly vibe, Marc Jacobs drew the eye to the neckline with cut out collars, tulle overlays as delicate as second-skin and dropped waist lines that added volume where it was needed.

The flower cut outs appliquéd over delicate fabrics and breezy feathers moving in the wind worked together to create their own music. Dresses, skirts and jackets were the focus. Signaling a move away from the masculinity of pants and bringing a refreshing twist to the simple two-piece suit, Marc Jacobs took a cue from classic Chanel and added a touch of edge. The most striking point of the collection was the craftsmanship of each piece. The amount of work that has gone into the collection is one of the reasons why Marc Jacobs for Luis Vuitton continues to impress audiences, if for nothing but his innate ability to make something old new again. Pastels and delicate pieces are a friend of every design house but this collection has taken it to a new level bringing just the right amount of attitude and the right amount of hardness.




"I wanted to bring into perspective the two sides of the Louis Vuitton Woman," said Marc Jacobs in reference to the dual personality in his collection.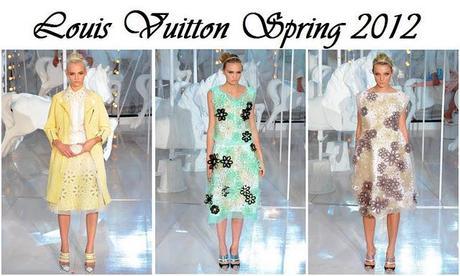 The Louis Vuitton woman can adorn a soft, ethereal dress to her ladies-who-lunch club but she is confidant and edgy enough to shed the angel wings. The navy and denim pieces with big buttons, cropped jackets in soft candy colors, exposed zippers and pointy toe metallic heels confronted the duality of the LV woman.
Marc Jacobs succeeded in adding a spring in our step with the Louis Vuitton 2012 Ready to Wear collection. Even the star of his show, Kate Moss traded in her thigh-high boots and Goth-rock look in the previous collection to appear as a debutante heading to Hotel de Crillon for her big moment.  The collection mixed sheer fabrics in origami-like delicacy without looking contrived; a feat only a master like Marc Jacobs can deliver. And it was received. Like the first days of spring when everyone is shedding their clothes, layer by layer, Marc Jacobs peeled back and let us catch a glimpse of the classic Louis Vuitton woman.
Enjoy!
F2