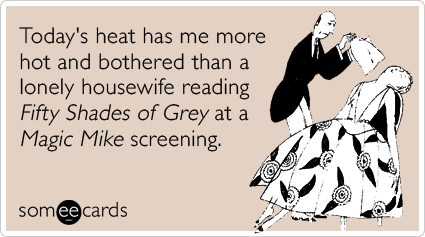 I fell victim to all the hype this summer and purchased a copy of Fifty Shades of Grey. In fact, I chose it as our book club read. I hated everything about this book but was quite intrigued by all the dialog that it stirred up. Just about everyone had an opinion on what the response to the book meant - google this and you'll see dozens of articles ranging from the psychology of desire to the deprivation women feel. Anyway, this is a short post to alert the fans of the book to a new development (and the ladies who side with me, to have a chuckle). 
Fifty Shades of Grey Party Games are coming! Yeah.... the new party game will allow players to "release their inner goddess" and will be available in U.S. and Canada by Dec 2012. You can pre-order (where else) Amazon, Barnes & Noble, Urban Outfitters and other major retailers. 
More details on the game... 
"Romantic, liberating and totally fun, the Fifty Shades of Grey: Party Game will entertain and surprise you as it reveals how you see your friends and how your friends see you.

All players listen to the vanilla style question before secretly voting on which of the eight pre-determined friends they believe is best matched to the question. When everyone's ready the answers are revealed for all to see! Once all the 'Oohs' & 'Ahhs' have died down any player that picked the same friend as the reader wins an Inner Goddess token. Bonus tokens can also be won, and watch out for the special 'Twitchy Palms' questions that are worth double! The first player to collect 20 tokens wins the game and a ride in

Charlie Tango

... if only! 

And players that want to add a little extra spice to their Fifty Shades of Grey Party Game can also buy the 'Red Room' Expansion Pack that promises to raise the temperature in this fun party game, and will have everyone talking long after the game has finished."

Who is daring enough to host a Fifty Shades party?