What on God's green earth is a Cronut? If you had asked me a week ago, I wouldn't have even heard about it.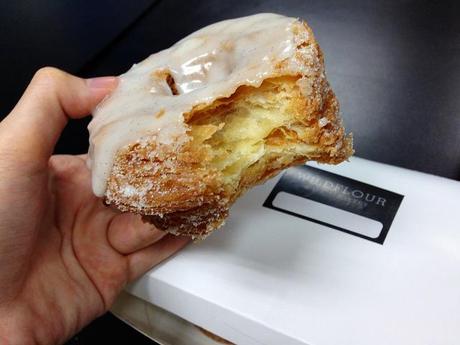 Sugary innovation.
Apparently, it's a new doughnut-croissant-hybrid that has been making waves from a little place called the Dominique Ansel Bakery in New York. It's only available there, but it's been making so much news that now, only a little over a month after it is first sold, it's made available by many other restaurants all over the world through their own interpretations of the snack.
Personally, I like doughnuts and I love croissants, so I expect there's something good behind all the hype.
The first to do so here is a nice little place I unfortunately have to walk by everyday, Wildflour Cafe + Bakery. It's only sad because the restaurant (and its kitchen) looks very enticing, and due to a bit of penny-pinching, I haven't tried it!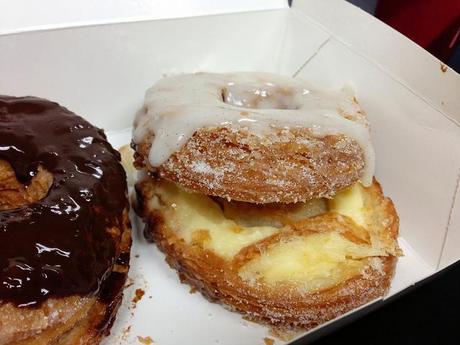 It's like a sandwich!
Based on the Facebook page, Wildflour is calling this number the
croissant-donut
and not the Cronut. What's up with the lame long name? Copyright reasons? Dudes, just call it the Doissant! Sounds
much
 cooler, and it's
probably
free to use. You can even sell them in bundles called Doissant Dozens.
Cool, Right??
Oh wait,
I'm
 copyrighting it. You can't use that now, either, or you'd have to pay me. in Doissants.
Speaking of which, they were quite good. It's basically the bread of a croissant, (which is what's awesome about it) shaped into and fried like a doughnut and stuffed with a light cream.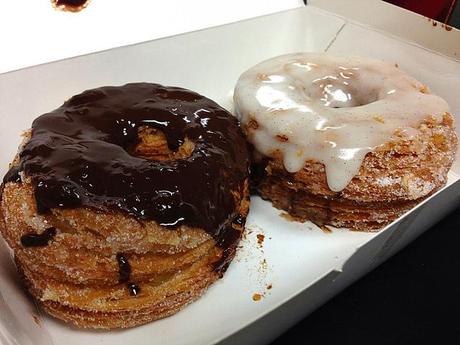 Chocolate Croissant-Donut and Vanilla Croissant-Donut, P120.00 each
We had the Vanilla and Chocolate Croissant-Donuts. Alvie preferred the Vanilla and I, the Chocolate so it was perfect. Vanilla was good too, but a bit too overpoweringly sweet for me, and the topping was a lot like a thicker version of Krispy Kreme's sugar glaze.
I liked the slightly subtler Chocolate topping instead, cause then I really got to savor the crisp, yet soft croissant bread and the cream it was stuffed with. The combination of the cream and bread is reminiscent of another pastry I like, the cream puff.
They have other flavors, like Strawberry, so you might want to check those out, too. :)
Verdict:
Vanilla Croissant-Donut: Good
Chocolate Croissant-Donut: Good
Yes, it is quite pricey for a pastry, but at 120 pesos, we don't feel we didn't get our money's worth because it does look like an intricately crafted treat. If I were to avoid this, it would definitely be more for my health than my wallet. Still, it's great to have something to indulge in so conveniently nearby. It's also terrible to have to resist something so conveniently nearby on a daily basis. :)
I heard Chatime also has their own version of the Cronut now.
Let the games begin!

These pastry hybrids might be a starting trend, so allow me to predict/conceptualize a couple of new ones:
Cupclair:
Cupcake-shaped eclairs.
Biscochkin:
Biscocho munchkins.
Hopianada:
Empanadas filled with Mongo. (Yuck! haha)
Other Restaurants in The Fort:
Good Earth Roasts (GER)
Gyu-Kaku: The Time is Ripe to Grill Some Tripe
IHOP: The Latest Pancake Craze
Jollibee: Ultimate Burger Steak and Flip Float
Kasbah: A Moroccan Lunch
The Best Pasta of Pasto
Racks: My Favourite Ribs
Red Garlic Bistro: Trotting the Globe, Clove by Clove
S&R: My Favourite Pizza
Saint's Alp: Taiwanese Chicken Goodness
Sbarro: Rolling in the Deep Dish
SM Aura Premier: Pepper Lunch Express under the Sky Park
Stacy's: The Sweet Kind of Retro
Stella Wood Fired Bistro: Nothing Less Than Stellar
Sunshine Kitchen: Second Dawn
Tapeo: Spanish Surprise at the Fort Strip
The Cheese Steak Shop: Philly Cheese Steaks in the Phillyppines
Toast Box: Going Goreng
Tokyo Tokyo: Burgers and Chopsticks
The Kebab Factory: The TKF Trilogy
Wrong Ramen: The Weirder, The Better
Wildflour Café + Bakery
G/F, Net Lima Building, 4th Ave. corner  26th Street,
Bonifacio Global City, Taguig City
(02) 856-7600
Operating Hours:
Mon - Sat: 8:00 am - 10:00 pm
Sun: 8:00 am - 4:00 pm
Facebook: Wildflour Cafe + Bakery
View Larger Map