Pink Panda has always been one of my favorite restaurants, being one of the few that offer a cool mix of different interesting South East Asian cuisines. Invited over to try out the new menu, we were looking forward to trying out what I was expecting to be new, delicious, innovative dishes.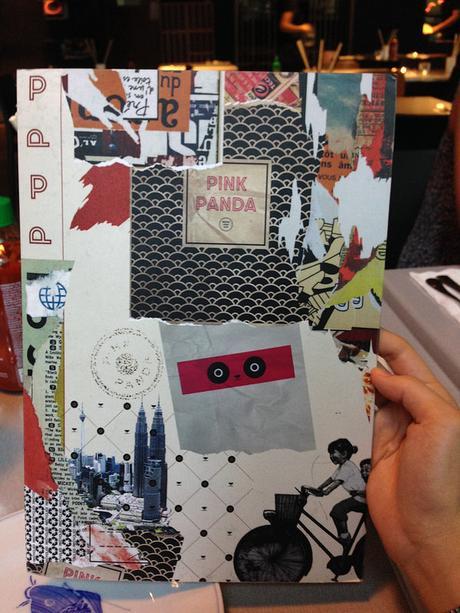 If I judged this book by its cover, I'd say this menu exudes the fun, quirky personality of Pink Panda. Short and sweet, it offers an appropriate number of dishes. Not too many to get your head spinning, though numerous enough to be exciting.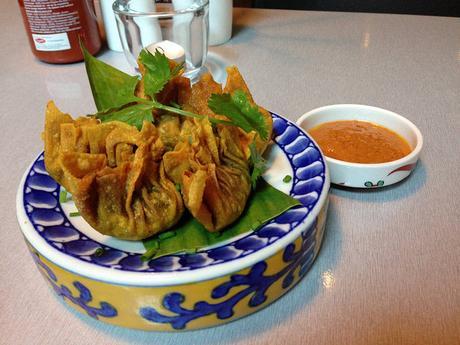 Gising Gising Gyoza, P240.00
coconut stewed pork, winged bean, garlic aligue sauce
We started this fine lunch with a Bicol-Japan hybrid! Beneath the crunchy exterior is a splendid mix of veggies which tasted a lot like
laing,
complete with the strong coconut milk flavor. Doused in the spicy aligue sauce, it made for a fine, zesty experience.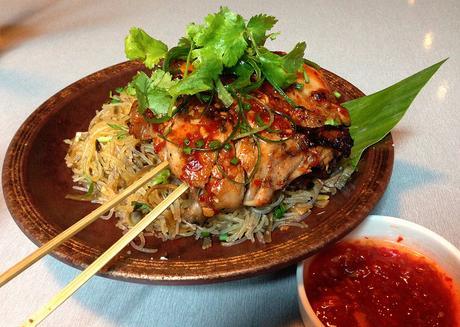 Asian Peri Chicken Thighs, P380.00
banana heart and black vinegar vermicelli toss, harissa sauce
Speaking of which, this chicken is the king of zesty! The finely prepared chicken thighs burst with tangy flavor with every bite. Easily the most flavorful Peri style chicken I've ever tried! This made a nice contrast against the vermicelli noodles, which had a much more delicate taste.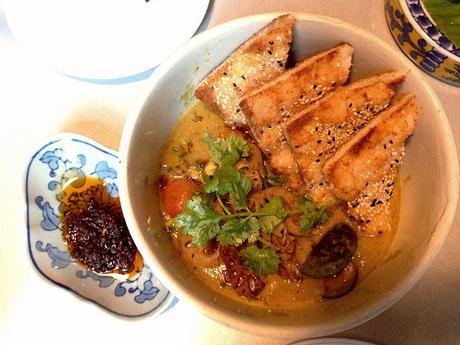 Mixed Seafood Sambal, P550.00
curried tomato and chickpea, fried prawn toasties
The rich curry-ish sauce was really good, and the added chickpeas provided a bit of a hummus-like quality to the dish. It went quite well with the prawn infused toasted bread, seafood and cherry tomatoes within. There was a lot of it, more than enough for two to share. For added spice, you can infuse your bites with the chili sauce on the side.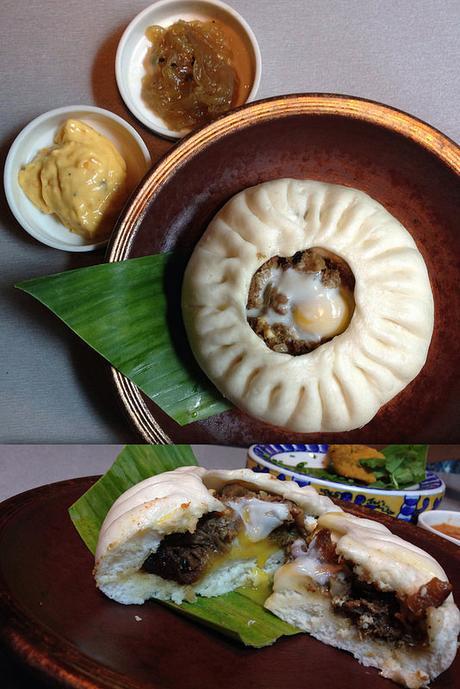 Sisig Siopao, P250.00
crispy pork mask, egg, caramelized soy onions, atchuete aioli
Ain't this a sight? I think I've seen sisig siopao somewhere before, perhaps 7-11, but it never looked as enticing as this, egg and all. For what it's worth, the sisig inside was actually good and legit, and paired nicely with the bun. The caramelized onions made for a nice palate cleanser, tasting slightly like candied yams, but what really improved this dish, was the aioli, giving a mayonnaisse-ish charm that also usually goes great with your standard sisig.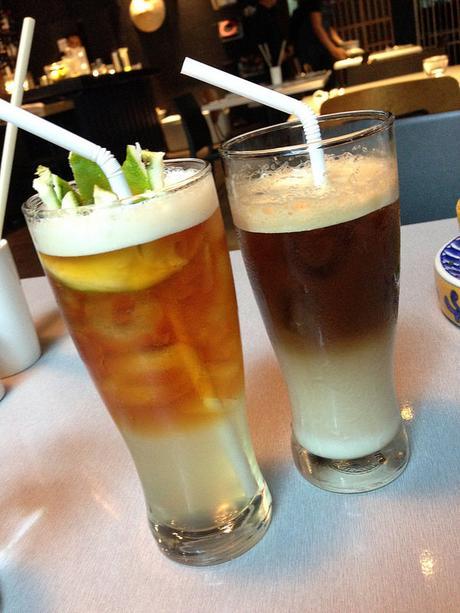 Chai Iced Tea, P100.00
Kopi Panda, P110.00
These were our drinks for the meal. The chai iced tea was very tasty, sweet with a strong citrusy sour taste. The kopi panda is just like the usual Malaysian coffee, with a thick layer of condensed milk, to be mixed together for a deliciously bittersweet cool drink.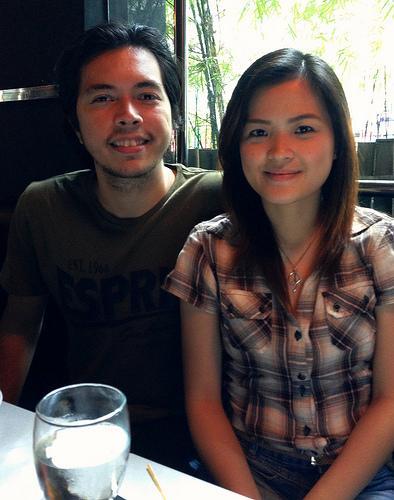 A fine meal! We look forward to coming back for more Pink Panda meals, or even trying out their sister restaurants, Hawk, Baits, Sprout and Sabao!
Menu:
Noodles & Broth, Sides, Mains
Small Bites, Rolls/Wraps/Bao & Pao, Salads, Dimsum & Dumplings
Dessert, Drinks, Alcoholic Drinks
Love Pink Panda? Hate it? Let me know by commenting below, or just
tweet
me!

Previous Panda visits:
Pink Panda South East Asian Diner
Pink Panda: Rendang, that's good!
Hatch 22 (sister restaurant) visits:
Hatch 22: Birth of a New Cafe
Hearty New Dishes at the Hatch 22
Hatch 22: No Ordinary Benedicts
PINK PANDA SOUTHEAST ASIAN DINER
G/F Y2 Residence Hotel,
4687 Santiago St. corner B. Valdez & Singian Sts., Makati City
(0906) 205-3898 / (02) 224-3000 loc. 3057
Operating Hours:
11:00 am - 12:00 mn
Facebook:
 Pink Panda Southeast Asian Diner
Twitter:
@PinkPandaManila
View Larger Map